Summer is coming to an end (sob) but there's still time left to create one more memory with your people, and bring your friends and family together for a party no one will ever forget!
At SHOT, we are all about creating memories that people will look back with a smile for years to come. As we turn our attention to back to school, fall vibes, pumpkin EVERYTHING and Halloween, there's still a few chances to gather those who mean something to you and have an unforgettable party. Here are our top mystery party recommendations for an absolutely unforgettable goodbye summer party!
Transport your guests to the serene shores of Hawaii in "A Hawaiian Homicide." With swaying palm trees and the distant sound of waves, the stage is set for a tropical escape marred by a sinister crime. As participants don their best Hawaiian attire, they'll unravel secrets amidst the beauty of the islands.
Mystery Party Decor Ideas for A Hawaiian Homicide:
Deck out your venue with vibrant luau decorations, including tiki torches, leis, and surfboards and beach balls.
Serve tropical cocktails and island-inspired cuisine to match the Hawaiian theme. Mix up some killer Mai Tai's and serve 'em in coconut cups for extra flair.
Tell your guests to channel their inner Magnum P.I. with Hawaiian shirts and shades.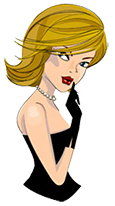 Mystery Party Host Tip
Create the Hula Hut, a hut on the beach where Hula dolls are sold. This is the scene of the crime, murder weapon: coconut.
This all-female mystery party game is set in a secret garden at an abandoned estate. This mystery unfolds in style, with guests sipping tea or afternoon cocktails and checking alibis amidst the blooms, where secrets lie beneath every petal.
Mystery Party Decor Ideas for The Garden Party Murder:
Deck your place out in all things garden: flowers, fairy lights, and maybe even a gnome or two.
Serve up dainty treats, tiny sandwiches, macarones and scones and ice-cold lemonade to keep everyone refreshed and energized.
Encourage folks to get dolled up in their Sunday best, complete with garden hats and dresses!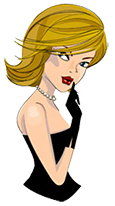 Mystery Party Host Tip
If you don't have a blooming garden or are throwing this mystery indoors, hit up your local garden center or even grocery store flower area to create a "garden" and help your guests feel like they are actually at Belladonna Manor!
The Mysterious Affair at Stirling Hall
Step into the realm of Bridgerton and Downton Abbey with "The Mysterious Affair at Stirling Hall." Set against the backdrop of a grand estate, this mystery unravels as guests mingle through opulent rooms and uncover the secrets lurking within, as the scandalous secrets the Westbys have tried to keep covered up come to light!
Mystery Party Decor Ideas for The Mysterious Affair at Stirling Hall
Create an elegant ambiance with chandeliers, antique furniture, and luxurious textiles.
Serve a formal dinner with a gourmet menu and vintage wines, and work the mystery around the meal or investigate after dinner is done.
Request guests to dress for the era, and watch how your creative friends bring their characters, and this era, to life!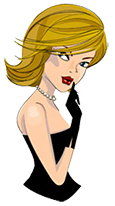 Mystery Party Host Tip
This mystery has the classic Clue mystery element of having to figure out who dun it, but also in which room and with what weapon. Set out some props, like the candlestick, rifle, chair, wrench and more to give guests a bit of nostalgia for the beloved board game.
How Alan Puckett Kicked the Bucket
For a quirkier summer mystery, "How Alan Puckett Kicked the Bucket" brings a whimsical twist to the party. The setting of Alan Puckett is at The Wired Lobster Cafe in the town of Ruby's Trove, but before the townsfolk are brought togeter at the cafe, they were all at an impromptu party at the town's beach. This leaves this mystery party game open to being investigated outside, amid a BBQ, or inside as you see fit and weather allows.
Set up a classic BBQ scene with picnic tables, checkered tablecloths, and grilling props.
Craft a menu featuring classic BBQ dishes and beverages.
Alternatively, set up your space as The Wired Lobster Cafe, and invite guests to enjoy classic cafe drinks and foods as they investigate!
Wine, dine, and unravel a murder or two with the vineyard-themed "Murder at the Winery." Sleuths and suspects are tasked with unmasking a murderer while savoring the delights of Abruzzo Estates most recent (and slightly controversial) vintage, Organo.
Mystery Party Decor Ideas for Murder at the Winery
Transform your space into a rustic winery with wooden barrels, wine bottles, and grapevine decorations.
Curate a wine tasting experience with various wine options and pairings, including cheese and chocolate. Lots of cheese and chocolate.
Suggest guests dress in cocktail party attire, evoking the sophistication of a vineyard soirée.
For those who love the thrill of horse racing, "Murder at the Derby" combines the excitement of the racetrack with a suspenseful whodunit. Amidst the cheers and bets, guests will work together to uncover a killer in the midst of the derby. Add on the Wagering expansion Pack and host your own four heat derby featuring the horses from the mystery!
Mystery Party Decor Ideas for Murder at the Derby:
Create a derby atmosphere with race banners, betting slips, and horseshoe decorations.
Serve classic derby-inspired finger foods and signature cocktails.
Encourage guests to dress in their best derby attire, complete with hats and bowties.
The waters of Siren's Pass and Neptune Bay become the backdrop for a mystery that demands you and your guests' best sleuthing skills. Brizo Island's secrets are buried deep, and that's where they want them to stay. Think lakeside vibes, long, sweet sunsets and a who-dun-it generations in the making.
Mystery Party Decor Ideas for Murder on the Lake
Set up a chill lakeside scene with water craft, picnic blankets, Muskoka chairs and lanterns.
Keep the food simple and picnic-friendly—think sandwiches, chips, and easy-to-sip drinks.
Invite your friends to dress comfy, like they're heading out for a leisurely day by the water.
Delve into the whimsical world of "Murder in Wonderland," where the charm of Lewis Carroll's tales meets a gripping murder mystery. Amidst the enchanting décor of Wonderland, guests will decipher clues and solve puzzles to uncover the truth of who poisoned The Caterpillar's hookah, and just why is everyone in Wonderland so completely mad?!
Mystery Party Decor Ideas for Murder in Wonderland:
Transform your space into a fantastical Wonderland with oversized props, playing cards, and vibrant colors.
Serve imaginative and whimsical treats, such as "Eat Me" cakes and "Drink Me" potions.
Encourage guests to embrace the Wonderland theme with creative costumes inspired by Alice in Wonderland character of their suspect, or get creative with their costume if they are not playing a suspect. Bonus points for hats crazier than the Cheshire Cat's grin.
Create one last warm-weather memory with your people with a summer murder mystery party game from Shot In The Dark Mysteries and savour the last moments of Summer 2023!
Murder mystery party tip!
Get the package that fits your CONFIRMED guests, not the "maybes" and "on-the-fencers". We live this hosting life, and know that not everyone can firm up an RSVP (and let's face it, some are just flaky… yup, we are just dropping truth today…). The packages are designed to have everyone, even if they aren't a suspect themselves, be fully involved with the mystery, so don't worry about anyone feeling like they aren't involved. Trust us – most times the Sleuths have more fun than the Suspects.
Try this Hosting Hack when planning your next party, and let us know how it goes!