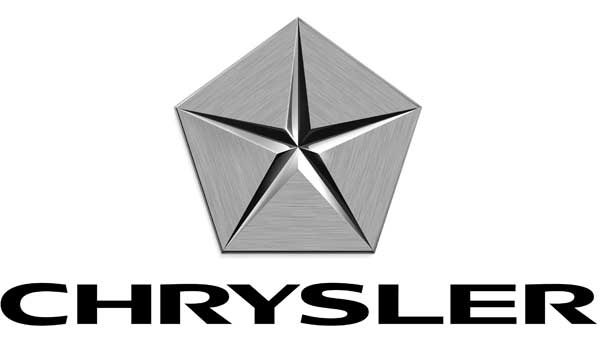 THE 2009 Chrysler Egypt Press Trip The Jeep Challenge for 2009 is over at last! I wanted to drop you a line to tell you how well it went. Actually it was fantastic! The journalists loved every moment of the event and they thought the idea was absolutely great (actually they thought it was one of the best events they ever attended compared to other international and local events)! On behalf of the rest of the team I wanted to thank you and tell you what a pleasure it was to work on this project with you. Your ideas were superb and the integration of the cars and the long drive went perfectly. the balance was just right. I have to say that from the idea and story standpoint and the excellent execution of the agency this was pretty much a flawless event. Once again, thank you for the flexibility you showed during our development phase and for the enthusiasm in building this event with us.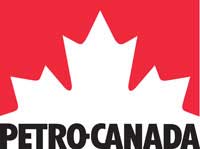 The Petro Canada Occupational Health Associates Conference Thank you for creating and hosting a customized murder mystery for our work group. It was a really unique way to end our conference. Everyone was raving about the awesome event the next day. The gal that was a reluctant suspect enjoyed it more than anyone! Well done!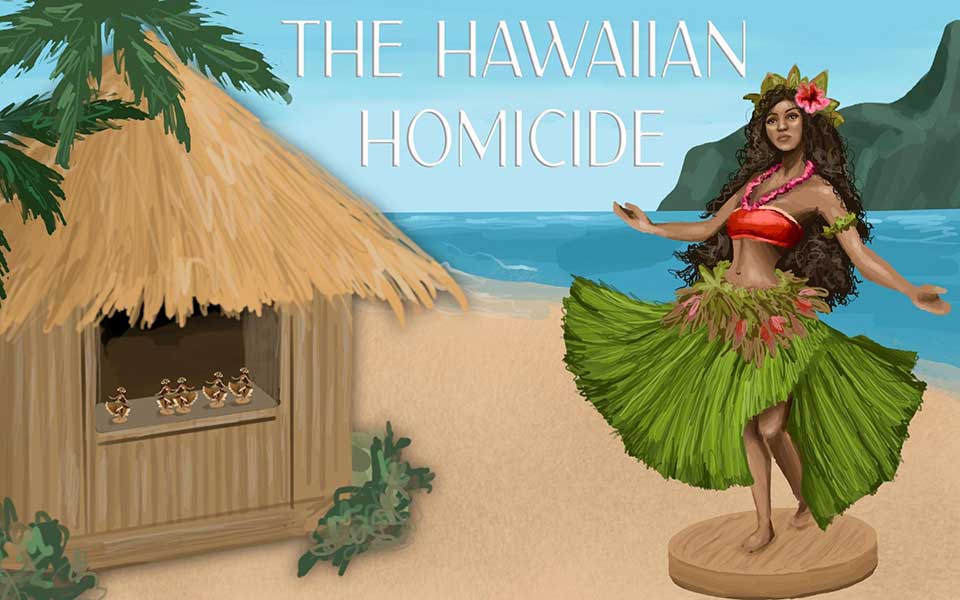 It was OFF THE HOOK FUN!!! Thank you SO much!!! You are awesome and everyone on our team was amazed at the quality of the mystery. We had one gal who had just attended a mystery dinner in Sacramento the evening before and she said the first five minutes of our event was better than the entire other thing.
We hosted our Mysterious Affair at Stirling Hall event this past Sunday. It was HUGELY successful! We had 56 adults and 6 teens – 63 total – our most well-attended adult program EVER! They all raved about how much fun they had and that they want more murder mysteries!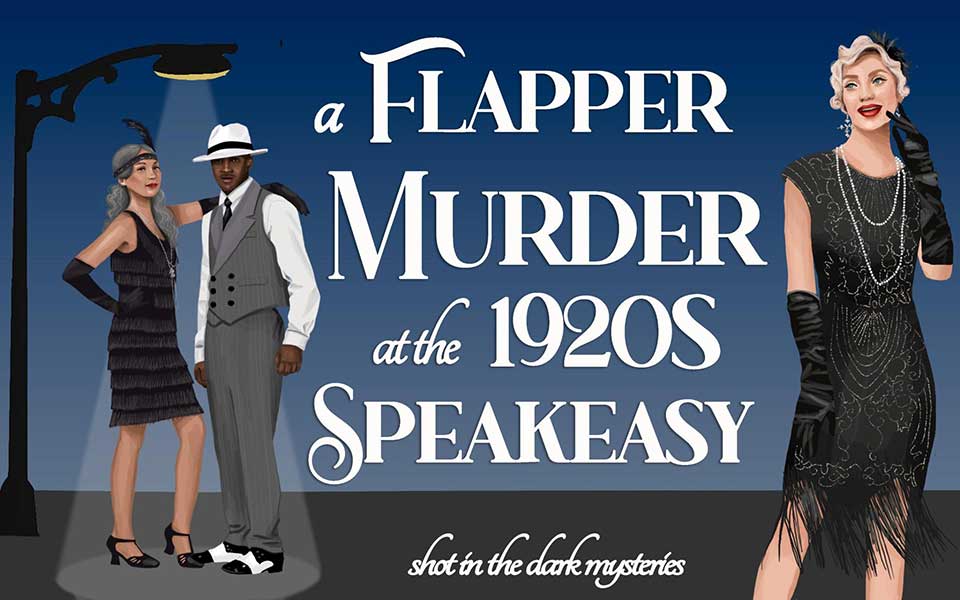 Thanks Leigh! I would like to thank and congratulate you on such fantastic customer service. I will certainly recommend Shot in the dark to others and am looking forward to a great party.
We very much enjoyed the "A Flapper's Murder at the 1920's Speakeasy" mystery! I've done three murder mysteries over the years and every one has been a different format, although all very fun. This format worked well for the group, although I like the idea of multiple clues intermittent throughout the dinner. Much thanks for the great mystery.
Just a quick note to say thank you so much for your help with our party. We had a fantastic time!
All I can say is thank you thank you thank you! I have never enjoyed my own, or I think anyone for that matter, birthday so much! Leigh, it was such fun and I cannot wait to host small dinner parties where everyone is a suspect! Thank you so much for the wonderful work you do, you definitely know how to, and love to, bring joy into the lives of others! I look forward to buying my next pack from you.
All I can say is thank you thank you thank you! I have never enjoyed my own, or I think anyones for that matter, birthday so much! Everyone dressed up and looked the part for Roaring Twenties but, as there was such a diverse group of people present, all of whom each only knew a couple of people, the beginning of the evening was a little awkward. We proceeded anyway and announced the murder by means of the voice clip – only the 10 suspects knew it was a murder mystery party! I think everyone was slightly unsure of what to do next, but within 10 minutes everyone was having a ball. They all had their pens and note pads and were furiously scribbling down evidence.
It was the best ice breaker ever and got everyone chatting to each other,despite never having met before. It was wonderful to see my friends making friends with each other and to see everyone, including myself, having such fun! By the time the accusation/confession sound clip was played, everyone was dying to know who the murderer was, especially me – my boyfriend refused to let me have the information etc on my computer in fear I might have a sneak preview! Of the 40 odd accusations placed, only three guests accused correctly (I wasn't one of them)! Leigh, it was such fun and I cannot wait to host small dinner parties where everyone is a suspect! Thank you so much for the wonderful work you do, you definitely know how to, and love to, bring joy into the lives of others! I look forward to buying my next pack from you.
Your help and advice was super and we had an amazing weekend. They whole weekend was a tremendous success and the Murder Mystery was the crowning glory. We look forward to using another party!
Just wanted to tell you we had the best 16th birthday party for my daughter using the Murder at the Spa kit. Looking forward to another girls night out and a murder mystery!! Thanks again!
Just a note that our "Murder at the Spa" birthday celebration was a huge success with the 13 year old attendees. They had a great time and enjoyed the well-crafted plot. Thank you for a great product.
I wanted to thank you again for the super mystery you wrote for my party to celebrate two special 50th birthday's. I have had several inquires on who the mystery writer is and several picked up on the similarities of themselves with their character.
I wanted to let you know that we had a fantastic time! It took a few minutes for everyone to get the swing of things but once we did, we spent two hours seriously playing the game. We're looking forward to the next time! Thanks
Thank you so much for the advice. So we had our Masquerade Murder last night, and I can't even begin to tell you how much fun we all had. I'm really glad that I chose this mystery. I wanted to do something neat for my birthday, and this was perfect. I think the game being free-form as opposed to scripted was also really great, because you pretty much have to talk to everyone to figure out what's going on. We all thought this would be fun, but it definitely exceeded expectations. I can't wait to order another mystery. Thanks again!!
My friends and I had such a great time with the mini murder masquerade party! I went a little further and created props for the code breaking kit so we actually saw the dagger, found a cryptex, solved the ambigram etc. My friends want to make this a yearly tradition. Thanks so much!
We had The Masquerade Murder Party for my daughter's 16th birthday! The birthday girl ended up being the murderer! They all had a great time and want to do another one!
I just wanted to send a quick thank you. When plans for an outdoor team-building activity for my department got rained out this afternoon, I was scrambling for a quick, fun indoor activity. I found your website, and in the short 30 minutes I had, was able to download and prepare the "Phantom of the Auction House" mini mystery for my group of twenty. Again, I just wanted to send a note of thanks for the well prepared, quick-to-implement mystery game. It turned a rainy afternoon into a fun sleuthing activity!
We had the best time ever with The Auction House Phantom Mystery. It was awesome. Everyone got right into their parts! Our supper club have all been friends for almost 50 years and we have so much fun together. We will order another mystery from you in the future. Thanks so much!
We had the party for my twin boy's 16th birthday. It was a big hit. Everyone had fun. Thank you.
I wanted to thank you for all your help in getting my downloading challenges resolved and for creating such a fun and exciting Murder Mystery! Here in the New Student Connections office at the University of South Florida, every year, we have a staff social around Halloween as a time to celebrate our successes up to that point in the semester and have some fun. This year, we decided to try the Murder at the Superhero Peace Convention game and the students and staff alike had a GREAT time – everyone was laughing and enjoying themselves! Thanks again for all your help – you really helped create a memorable evening for our team!
Thanks for having written such a great murder mystery Leigh! We held it this past Saturday and it was a roaring success!!! We're looking forward to doing it again next year with another well crafted script from the Mystery Maiden.
Thank you for the Halloween Party Murder Mystery! We and our guests had SO much fun playing our characters and trying to guess who did it. Thank you for writing a creative and interesting mystery.
It was an amazing night!!! So many got so into it and loved the story so much. On behalf of our entire faculty and staff we wish to express our heartfelt thanks for a job well done and an amazing evening of entertainment. You captured it all! Bravo to the CSBS&C mystery!
The Cat Came Back, Custom Game Launched publicly as Le Chat Noir
Murder at the Book Signing was a unique and fun way to promote my latest book. Participation was great and folks had a really fun time trying to figure out the murderer and the stalker. It's definitely worth it.
The mystery was absolutely fantastic! It was well organized and intricate enough that everyone had trouble guessing- in a good way. Everyone had a fantastic time and the party was a huge success. I love the fact that my own past experiences were integrated into the plot. It was by far the best party I've ever thrown, and I want to thank you so much for all of the work you put into it! It was all worth it. Thanks!
It was a 40th Birthday celebration and we needed something special. The Mystery Maiden created a custom murder mystery dinner game for us. Cleverly personalized, the game included fun references and facts about the birthday honoree and his family. All guests loved this once-in-a-lifetime celebration.
It was such a fun night! It proved to be the perfect way for people who were previously complete strangers to get to know each other…by the end of the night, you couldn't pry people away from each other. And all I had to do was read the materials and print it out!
The Mystery Maiden did an amazing job at custom writing a murder mystery for our fundraiser. Thanks to her the participants had a great time and we raised a lot of money for a good cause.
On Shirley's birthday a murder mystery game was organized and planned. The results: Everyone was so impressed and everyone had fun.
It went very well! All the teens had fun. I think another branch library will be holding it in February so look forward to hearing from us again!
I was given a surprise 60th birthday with a Shot In The Dark Mysteries murder mystery game. It was wonderful and enjoyed by all the guests!
The entire evening was a raving success. I just don't know how I will top this next year. Thank you for the GREAT game and I'll be recommending you.
Everything was perfect! I liked the fact that everyone there could play along with the mystery, even if they weren't a suspect. The whole family had a wonderful time and we can't wait to play another!
Leigh -Thank you again. Your assistance has been amazing. You'll definitely be getting our business again should we host another mystery party…or if any friends ask us for recommendations!
I just wanted to let you know that the party went really well. We did it a little differently than it's supposed to be because we wanted the kids to be surprised. It was a lot of fun!
A fun night. Murder Mystery Games like this one are terrific because they are ideal for any kind of occasion… office party, birthday, anniversaries….I had a blast. Would recommend for any party.
First, the party was a HUGE success. Everyone had a blast and was asking when we would do something like it again. I was sad when the night was over. Second, THANK YOU! You were super supportive throughout my planning journey (12 guests, now 14, only 12! …. Drinks… dinner…. just cocktails… dinner!) and answered all of my questions with ease and kindness. I am very appreciative of the extra work you shared with me. It made me feel at ease hosting such a large group and organized party. Lastly, how may I promote SHOT and give you a stunning review? Facebook and? Please guide me so that you get credit for your hard and triumphant work! Thank you again.

View the video testimonial from Christian author Sherryle Kiser Jackson!
It was a great night – something the whole family could enjoy!
Just to let you know we had a great party. A photo is attached – can you spot who's who? Many thanks!
Our game was intriguing, kept everyone interested and was interactive. The plot was intense but not overwhelming.
You guys really know the meaning of satisfying the customer. I
compliment/congratulate and thank you!
We had our party last night and we had an incredible time! It was a huge hit! Thank you for everything.