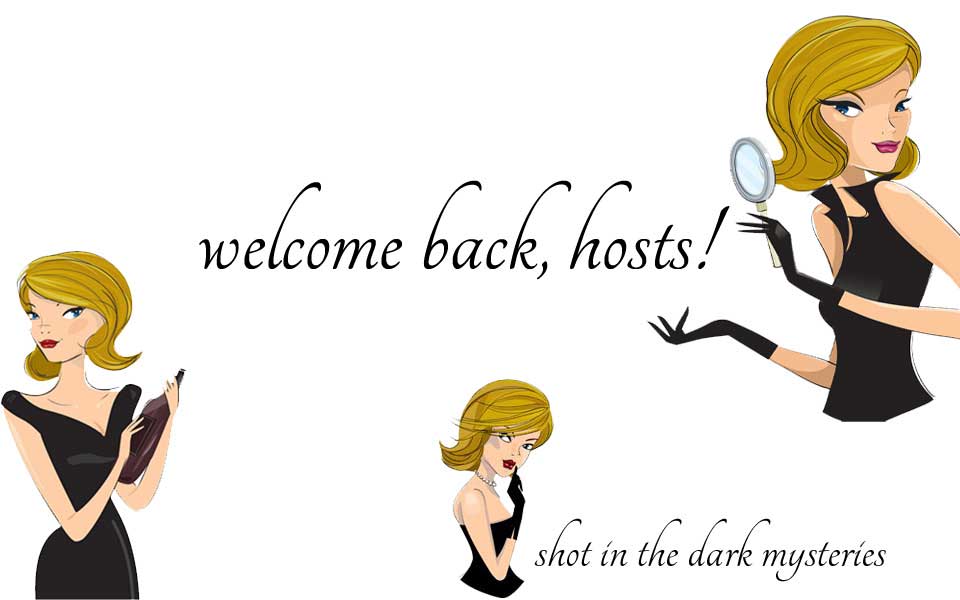 Well, hosts and mystery lovers, it has been an intense couple of years, but finally, we are in a place worldwide that we can safely say,
For us here at SHOT, so much has changed since Covid lockdowns hit in March 2020. Rewind to the day before the world started locking down. I had just launched the Shot In The Dark Mysteries Mystery Short Film Competition and Film Festival – a dream come true for me years in the making. We had also just put the sleuth. Wear clothing line into production, to give us so swag for our giveaways and something for you to use as prizes for your guests (not to mention simply flex your love of solving mysteries).
And while we made those things work (the sleuth. Line still launched, the mystery film competition still ran, only without a live film festival showcase), there was one thing that has never (at least, not yet) seen the light of day.
It's two days before the Covid lockdowns and most of us were still thinking this was nothing more than a media frenzy, blowing things out of proportion. We have been, at this point, working for years – literally years to put on two live, 3-day events at an old Gatsby-style mansion on Sapelo Island in Georgia. Run by the Government of Georgia, this venue has SUCH a quirky and fascinating history. I threw my first event there in 2018 quite unexpectedly, and couldn't wait to do it again.
In 2017, I had a client approach me to ask if I would consider doing a three day event for her and her friends in Georgia on this island. I often receive requests like this that never amount to anything, so I didn't take this too seriously, but over the next eight months, as she and I spoke more and more, I realized she and I shared two passions: the first, for bringing our people together to create unforgettable moments. The second: not just solving mysteries, but weaving them – the satisfaction of watching someone untangle the web you created. We became fast friends, and this client who messaged me out of the blue one day, has become one of my favourite people. Her name is Kari Morton.
After the Steampunk Murder three day scavenger hunt/escape room/murder mystery event we threw at the Reynolds Mansion on Sapelo Island, we were excited to do another one. The Georgia DNR (who ran the mansion) were impressed by what Kari and I had done, and asked if I could do one for them. I agreed, but I needed my partner in crime, Kari, with me. Kari's friends and family were also eager for another one, so we decided to do two back-to-back three day events – one for the mansion to put out to the public, and one private event for Kari's friends and family, and also a few of my personal friends who heard what we had done and were dying to experience it.
Where the first mystery was A Steampunk Murder, we decided for the second ones to use The Sly Mr. Foxx, a Gatsby-esque 1920s murder mystery I wrote many years ago – one of our best-sellers. Only, instead of one night, we would stretch the investigation out over three days with meals, clue-based scavenger hunts that would take people around the mansion and its surrounding grounds to experience this amazing place intimately. And then, of course, the classic investigation that comes with a SHOT mystery. We had a gramophone and I had audio clues made into records for me by a company in Amsterdam, so when you found these hidden records, you could place them on the gramophone to receive clues. There were locks with keys, clues to crack, things hidden in secret places around the mansion and, my personal favourite – we shot footage on an old video camera, then sent it away to have it processed and put onto film reels. Guests would find the reels and then have to load them onto an old film projector and watch the footage to get another clue.
This place was a playground for me, and my imagination ran wild.
Fast forward to the day before lock down. I was sitting in my car in my driveway, checked in and baggage paid for for my flight to Savannah, and I was about to leave to make the drive to the Toronto airport to catch my flight. As I was pulling out of the driveway, my phone dinged – an email notification. I backed up and checked my email.
It was Cat and Tony from the mansion, saying that another pair of guests, out of our 12 in total on the public event, had just come down with Covid and could not attend. We had gone from 12 confirmed to 8 in less than 10 hours. We had to make a decision.
While I waited for them to call the higher ups at the Georgia DNR to get an official ruling, I sat in the car, so many thoughts running through my mind… if we went ahead, would we lose more guests? Could I adjust everything in a pinch to accommodate? What if I went to the US and got stuck down there? As a single mom with two kids – it seemed like such a risk…
About 15 minutes passed and the phone rang. Postpone. They had ruled to postpone. I said goodbye to Cat and Tony, hung up, and turned the car off.
That sound – the sound of silence – coupled with the heaviness in my chest – was disorienting. I took my suitcases out of the trunk and rolled them back into my house, dazed. What just happened?! 18 months of work, many trips to Georgia, props, promotion, my heart and soul into this and it was just – not happening.
I tried to be reasonable and rational – worse things have happened – our guests who actually had covid were far worse off, but I couldn't help it. I was sad.
I moped around unapologetically. The next day I went for lunch with a friend and for some retail therapy. That was the last outing I would have, as the next day, the world went into complete lock down.
I still have never unpacked the suitcases. The things I was bringing with me still sit in suitcases in the SHOT storage unit, full of music boxes and locks and keys and notebooks and other things that were to be in the guests' welcome baskets. I hope one day to bring this event to light again. The things I shipped down there before I left are somewhere between Georgia and Colorado, as my dear friend Kari made some pretty amazing life changes herself since 2020. In the meantime, the two of us have been planning an event – but not for the public. The last time I saw Kari was in January 2020, when she dropped me at the Savannah airport and we said "See you in 6 weeks!" I had no idea, at that time, that I wouldn't see her again until 2022 in Cairo, Egypt, but life is full of surprises. The gramophone is still at the mansion, waiting for people to dance the Charleston to the records it plays.
This year, we are finally able to host our Mystery Film Competition AND a live event (Toronto, September 10, 2022 – check it out here) and we can't wait. Will we return to Georgia? Well, I guess we will all have to wait and see.
I know each and every one of our hosts has stories like this – of events cancelled or postponed, of missing friends and family, of heartbreaks and disappointments from the past few years, and even of losing people. As we are finally able to open our homes and venues again worldwide to host, my wish for you is that you make the most of it – never hesitate to take the opportunity to create new memories with those you have missed over the past few years. Take lots of pictures, soak up these moments you are about to create. Welcome back, hosts.