Top 5 Murder Mystery Parties for Summer
Summer is officially here, and we don't know about you, but on days with sweet heat breezes, we don't want to sit inside. What better way to get your people together for a little face-to-face time than to entice them with a little outdoor get together, creating sweet summer memories of fun with an outdoor-themed murder mystery party investigation game!
If you're not familiar with our format, we are all about the 'True Investigation' mysteries, what we also call "Mingle Mysteries". This is a format we at SHOT developed over 15 years ago to eliminate all the things that made murder mystery parties feel humiliating and intimidating to certain guests. These "Mingle Mysteries" have your guests sleuthing and asking each other questions to find the person who had the motive, means and opportunity to commit the murder, theft or crime. Because of this interactive format of mystery party, it's perfect for a backyard party, a get-together in the park, a pool party, a garden party or anything else you can come up with as an excuse to entertain outdoors this summer!
So, which ones do we recommend for your summer party activities? Read on, mystery lover!
A Hawaiian Homicide is a Hawaii-themed murder mystery party investigation that is perfect for a backyard party, pool party or garden party! This mystery has you and your group taking on the characters of locals, resort-goers or employees of the resort as you investigate who murdered the victim behind the Tiki Hut with a coconut! Just add sunshine and some cool drinks and you are easily entertaining your summer-loving friends – – Tiki Bar optional!
This mystery is a 3/5 on our "Angel Rating" scale, which means it's not necessarily appropriate for all audiences, but all of our mysteries are handled with tact and class, regardless of the content.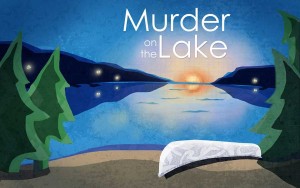 A mystery perfect for a yard, park or the cottage! Entertain your guests with this 'clean' murder mystery (a 4/5 on our Angel Rating Scale) that takes place on an exclusive island, the residents of which do not take kindly to outsiders! When a body is found floating in Neptune Bay, the residents have to get to the bottom of it to protect their privacy and keep mainland law enforcement from digging too deep into their community!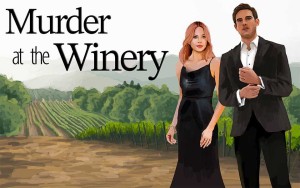 Did you need another excuse to pull your people together to catch up over wine? Murder at the Winery is a wine-themed murder mystery (of course!) that is set at a vineyard in Italy in the Italian countryside. There is more than one mystery to unravel with this investigation, and a lot going on as Girato nel Buio unveils their exclusive, limited edition vintage, "Organo". But when a man is found murdered in the cask room, stabbed with a corkscrew, the guests become suspects in this twist-filled mystery investigation!

One of our double murder mystery parties! Two victims, one crime scene and it's up to the area's elite, who have come down from Millionaire's Row, to figure out who among them is a killer! An engaging little whodunit that is 'Clean' (A 4/5 on our Angel Rating Scale) and perfect for any sort of outdoor entertaining! Throw it at your local race track for an authentic venue and pull out your wide-brimmed hats and seersucker suits to get into the true Kentucky Derby spirit!
One for the gals! This all-female murder mystery party is set in a secret, forbidden garden at a very mysterious tea party. Fans of Agatha Christie will love this, as there a few winks and nods to the Queen of Mystery in this layered who-dun-it. The guests received a mysterious invitation from an unknown host to attend a tea party in an abandoned house in the small village of Christie's Leigh. But when the vicar drops dead after drinking his cup of tea, a sinister game begins to unfold. While discovering the identity of the person pulling the strings is the goal, discovering WHY they have orchestrated this party is even more enticing!
HONOURABLE MENTION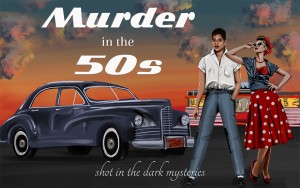 What is it about the era of the 50s, with bobby-soxers, drive in movie theatres, Greaser Gangs and sock hops that just screams – oh those summer nights! Yup, this mystery is like Grease meets Archie as you and your guests take on some stereotypical characters and map out each suspect's whereabouts around town in the moments leading up to the high school sock hop, when the victim was found murdered up at Lovers' Lane. It gets an honourable mention on our list because it can be set anywhere, not just the school, and is a perfect way to take advantage of the sweet weather of the next few months!
Whichever mystery investigation party you choose, have a blast pulling together your friends and family to create a memory no one will ever forget!