Throw the party of a lifetime with a Kentucky Derby-themed soirée! Whether you're an avid horse racing fan, mystery lover or just looking to throw something unique, this guide will help you plan and host a derby day shindig that your guests won't soon forget. From choosing the right decorations and refreshments, to setting up fun activities to get everyone in the spirit – it's time for mint juleps, fancy hats and lots of small talk. Let's get started on shaping up an event even The Fastest Horse Around couldn't miss!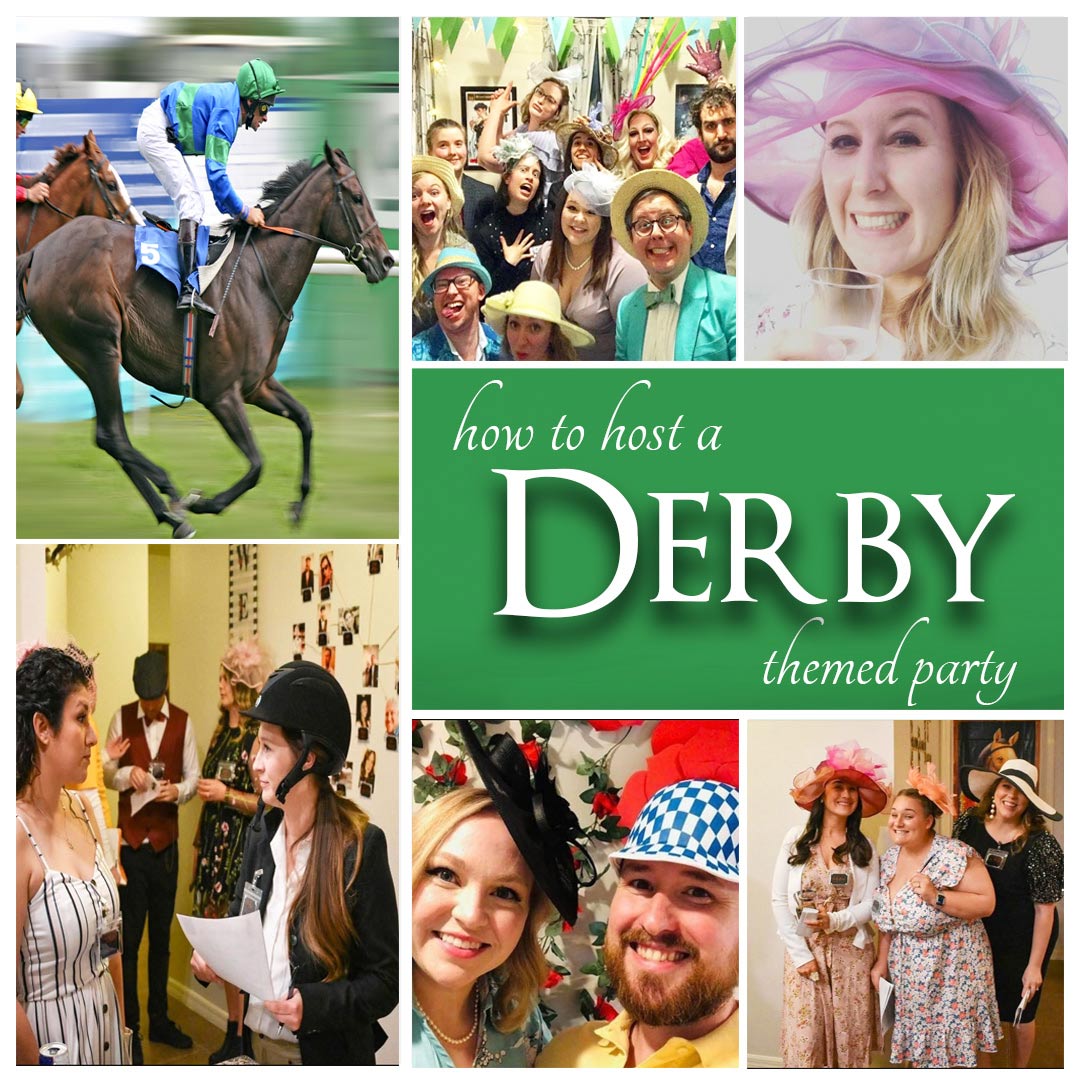 Create an invitation list with fun activities like a hat contest and trivia game
Let's Derby! If you're looking for a creative way to invite friends and family, Derby Day will be sure to hit the mark. Host a Derby-themed party and give your guests an experience to remember. Start by creating an invitation list of people who will appreciate the excitement of Derby Day. Then, plan some fun activities like a Derby hat contest and a trivia game about horse racing to keep everyone entertained. Naturally though, our top recommendation for an activity at a Derby Party is a murder mystery party, like Murder at the Derby. You and your guests are all watching the Derby from Millionaire's Row when you suddenly find yourselves suspects in a double murder! You have to question each other to find the person (or persons) who had the motive, means and opportunity to commit these murders, and also – how did a horse just up and disappear?
But, you don't need to solve the mystery to use our new Derby Races and Wagering Expansion Pack – it will bring a 4 heat race to your party that you and your guests can wager on!
Set the mood for a race-themed party by decorating the space with checkered table clothes and horse-themed decor
To get your racetrack-themed party off to a running start, set the environment with checkered tablecloths and horse-inspired decor. Red and white gingham provides a classic and upbeat twist, adding energy and fun to the room. You can also add to the vibe with inflatables of jockeys, horseshoes, toy racehorses, and mini trophies. Don't forget the hats — they'll help keep the atmosphere lively! Once you have your decorations in place, it's time to kick off your race-themed extravaganza.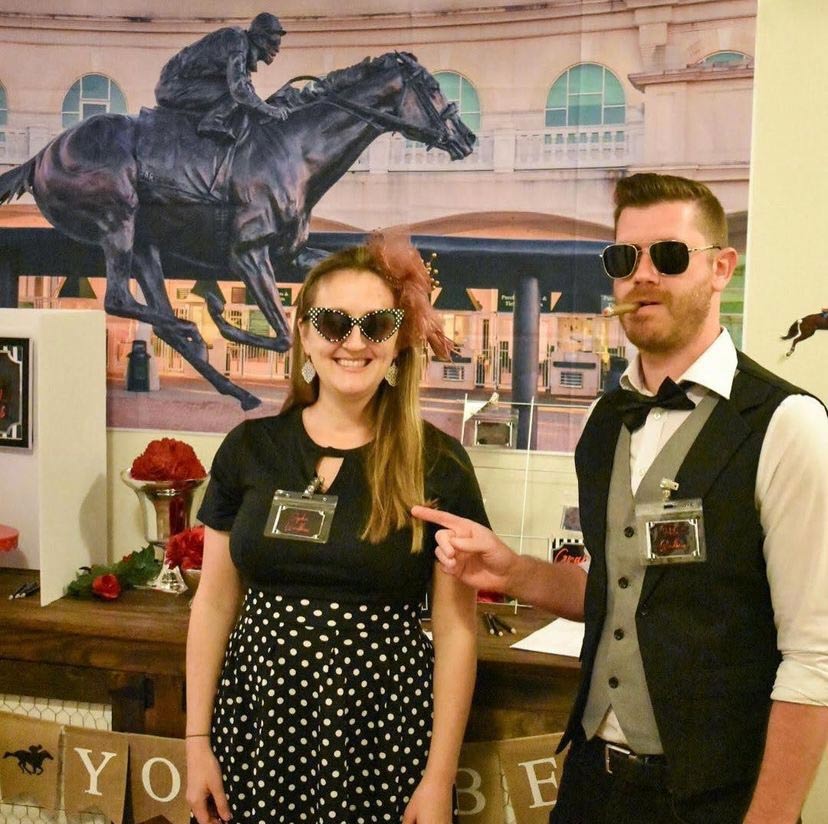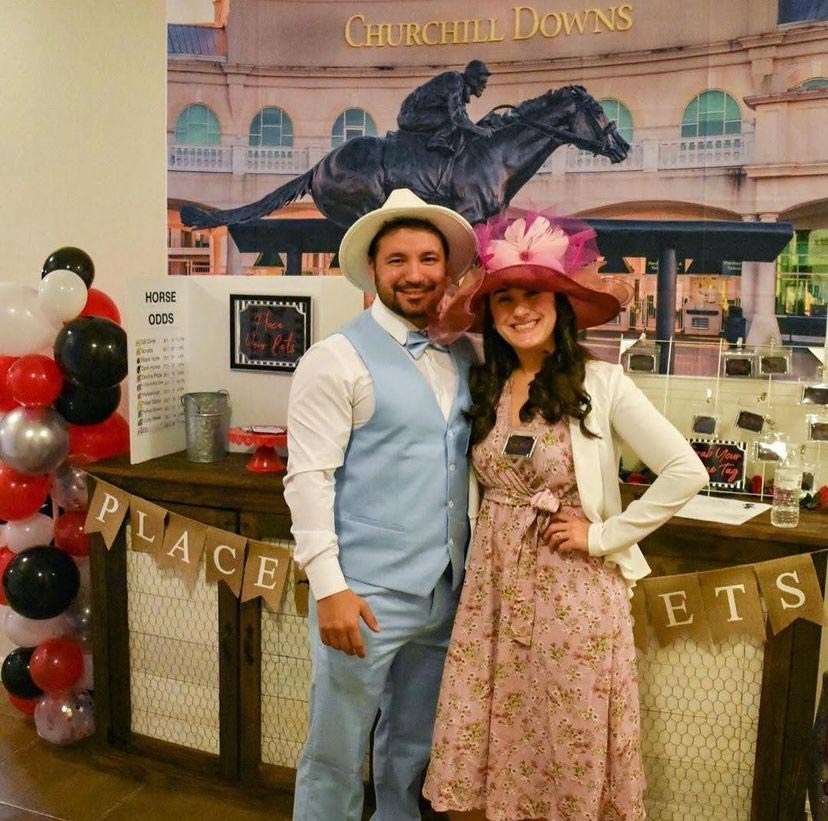 Whip up some signature drinks that have derby-inspired names such as The Mint Julep and The Kentucky Mule
With the start of spring comes the excitement of the Kentucky Derby season! Adding a special Derby flair to your gathering is easy — whip up some signature drinks with inspired names straight from the races. A cozy Mint Julep on a porch with friends always feels Southernly delightful, or for something a bit more daring, try The Kentucky Mule — made with local Kentucky bourbon, lime and ginger beer. Flirt with alcohol-infused sweetness using simple syrups created from mint leaves and any other herbs you can imagine. Top off these derby drinks however you choose — fresh fruit slices, edible flowers and sprigs of mint add an aesthetic charm while ice spheres cool things down to the perfect temperature. Cheers to the season of hats and horses!
Ingredients for a Mint Julep
8 leaves of fresh mint
1/2 oz of simple syrup (make your own by heating 1 cup of sugar with 1 cup of water until the sugar dissolves) OR Mint Syrup
2 oz Bourbon – the go-to is Woodford Reserve (also the Kentucky Derby sponsor this year!) but I sub'd Brother's Bond here to see how the Vampire Diaries boys' bourbon fares in this classic cocktail
Crushed ice (Mine is so fine because I threw it in the Ninja)
Mint, to make it all look pretty at the end!
Muddle (room temperature) simple syrup and mint in your serving glass
Add crushed ice, then bourbon and garnish with mint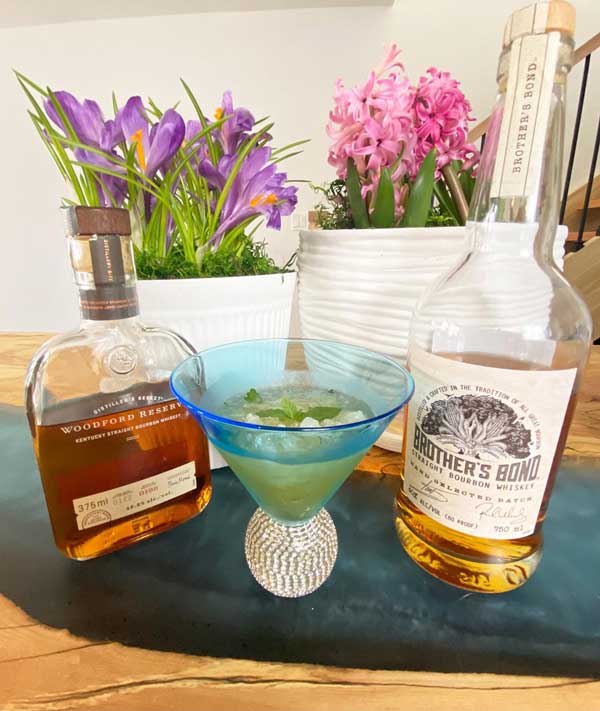 This is the traditional way of making it, but I'm a big fan of the martini shaker, so I tend to crush mint in a mortar and pestle, and shake it in my martini shaker with ice, bourbon and simple syrup (or mint syrup, if you choose!). Then I pour it over the crushed ice in the glass – I just find it mixes better, which makes the mint julep taste better
Serve traditional derby food such as hot brown sandwiches, benedictine, burgoo, and of course, derby pie
When hosting a derby party, you can't go wrong with traditional derby food! Start your spread off with hot brown sandwiches: a Kentucky classic of turkey, bacon, tomatoes, and Mornay sauce on toast. For some creamy deliciousness of your own creation, whip up some benedictine dip – it's easy to take cream cheese and cucumber salad dressing and make an enviable appetizer that all your guests will love. Finish up the meal with burgoo stew – it may be an acquired taste but once acquired there is no going back! The belle of the ball should be Derby Pie; this intoxicated chocolate-and-walnut decadence will have even the biggest sweet tooth yearning for more. It's the perfect way to raise your glasses and cheers to another great Kentucky Derby!
Quick and Easy Derby Pie For The Busy Derby Party Host
1 (9 inch) pie crust pastry
1 cup light corn syrup
1 cup white sugar
4 eggs
1 3/4 cups chocolate chips
1 cup chopped pecans or walnuts
½ cup butter, melted
3 tbsp bourbon (Optional but we HIGHLY recommend it!)
1½ tsp vanilla extract
Preheat oven to 350 degrees F (175 degrees C)
While it's heating, press pie crust into a 9 inch pan
Mix corn syrup, white sugar, and eggs in a bowl, then add chocolate chips, pecans, butter, bourbon, and vanilla extract
Pour mixture into the pan with the pie crust.
Bake 45 to 50 minutes. Check in on your Derby Pie often, because oven times may vary! Leigh's gas stove cooks WAY faster than her old electric.
Put together entertaining activities like a photo booth and races with the SHOT Derby Races & Wagering Expansion Pack
Having a great party is all about creating entertaining activities. So why not put together a photo booth, with tons of funny props and backdrops that your guests can use? A simple way to add a fun activity is with the expansion pack we offer for Murder at the Derby – but you don't have to throw a murder mystery game to use it! (Although we do highly recommend it). This package has everything you need to watch or listen to 4 heats of racing at the "Talbott Downs Derby" and wager with your guests! Cheer on the horses to the final championship heat!
Don't forget to play classic derby tunes like "My Old Kentucky Home" to make sure everyone is in the Derby spirit
No matter what type of celebration you're having for the Derby, it's a must to add in some classic tunes – and none represent the spirit of the race quite like "My Old Kentucky Home." It captures that sense of tradition and nostalgia that makes people want to revisit the Derby year after year. And even if you're not in Kentucky for the big race, getting lost in this song is a great way to bring the feeling of being there directly into your living room. So, be sure to get this tune on your party playlist and you simply can't go wrong!
If you haven't already, go check out the official Kentucky Derby website. They have AMAZING ideas, inspiration and more on how to throw your own Kentucky Derby party at home, and all of these ideas parlay beautifully into a horse racing murder mystery party or derby themed party.
And there you have it, everything you need to know to host your own race-themed party. Just remember to have fun and enjoy the derby spirit.  So whether you're sipping on a mint julep or cheering on your favorite horse, make sure to enjoy the day!
Murder mystery party tip!
Get the package that fits your CONFIRMED guests, not the "maybes" and "on-the-fencers". We live this hosting life, and know that not everyone can firm up an RSVP (and let's face it, some are just flaky… yup, we are just dropping truth today…). The packages are designed to have everyone, even if they aren't a suspect themselves, be fully involved with the mystery, so don't worry about anyone feeling like they aren't involved. Trust us – most times the Sleuths have more fun than the Suspects.
Try this Hosting Hack when planning your next party, and let us know how it goes!