What is an Angel Rating and How Do I Use It
Exclusive to Shot In The Dark Mysteries, "Angel" ratings are a quick way to determine, at-a-glance, what type of content our mystery party games contain. Angel ratings have been assigned to each of our mysteries in keeping with our commitment to make hosting a Shot In The Dark Mysteries' party the easiest experience possible for the host, while at the same time shielding the host from "spoilers" in the mystery materials. This means YOU can play along and solve the mystery with your guests, having just as much fun as anyone else!
In the top right-hand corner of each mystery party page you'll see a row of angels, hanging out side-by-side like they're about to break into a line dance. The more angels you see, the cleaner the mystery. If there's just one angel dude hanging out by himself, that means the mystery is risque, and could offend some guests. See below for what each Angel rating means.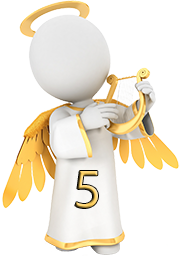 Know going in though, that our mysteries NEVER contain profanity. The clues will not force you or your guests to embarrass themselves by shouting foul language. If they choose to add some "zest" to the information they're provided… well, that's the prerogative of each suspect. Same goes for any kind of lewd gestures and innuendos, subtle or otherwise.
5 Angels: A perfectly clean mystery! This mystery will be free of murder, sex, drugs, adultery, etc. Guests will be investigating without stumbling across something they will have to cross themselves for later. All ages. See all Angel 5
4 Angels: The plot is murder, but is free of all references to drugs and sex. All audiences. See all Angel 4
3 Angels: The plot may include references to drugs or affairs, but is handled with tact. This mystery will contain nothing more offensive than you could expect from your CSI program of choice. See all Angel 3
2 Angels: Not appropriate for children and some adults. References can include drugs, sex, affairs/adultery etc. See all Angel 2
1 Angel: No holds barred – could contain references to drugs, sex, affairs or other content not appropriate for all members of the family, especially your sweet 92-year-old great grandmother. Adults only!