So you've never investigated a murder mystery?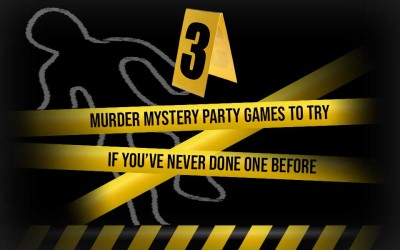 Don't sweat it, we were all new once!
Welcome to Shot In The Dark Mysteries!
Our mysteries range from more straightforward to challenging multiple murders! We figure that, as a fresh-faced detective, you may be looking for a slightly easier mystery. To help ease you in, we've listed the top 3 favourites of other first timers! Once you try these, you'll be hooked!
Our format is completely different than the formal dinner parties you may have heard rumours about! Instead, at Shot In The Dark Mysteries, we are all about the experience of true investigation, with a killer mix-and-mingle format. Anyone who is playing a suspect will get their backstory and some guidelines on how to answer questions. Otherwise, they get to bring their character to life in whatever way they please! Each mystery comes with character complexity ratings, to help you assign the right people to each suspect. Even the killer doesn't know they're guilty! So everyone really is part of the mystery. After the announcement of murder, you will interrogate the suspects to find out who had the the motive, means and the opportunity to commit the murder.
Keep in mind that adult content may vary – we said easier, not 'child friendly'! We have a whole line of Kids & Teens mysteries for the younger detectives.
Top 3 Murder Mysteries To Try (If You've Never Done One Before!)
The roaring 20s are in full swing during this prohibition-themed murder mystery! With a cast of characters that come up in a few more of SHOT's mysteries, this is a great story to start with! A Flapper Murder at the 1920s Speakeasy takes place at the Half Moon Club – one of two speakeasies in town – where dolls and molls drink alcohol illegally after the sun goes down.
The investigation starts when a flapper is found shot to death outside the club. You and your group are staff and patrons who want to solve the murder before the coppers start nosing around the juice joint!
Costume Ideas: 1920s era flapper dresses and gangster suits.
Decoration Ideas: Cardboard boxes of bootlegged alcohol. Printed photos of famous gangsters. Read: 7 Tips for Designing your Speakeasy
A mysterious invitation brings an unlikely group of guests together at a secret location in Venice – a Black and White themed masquerade.
They are instructed to meet a gondola at a specific place in Venice at a specific time. As the gondola glides beneath the Bridge of Sighs, each person is to don a blindfold.
Costume Ideas: All forms of masquerade masks and evening attire
Pour a bourbon and loosen your tie, you're at the annual AdAge convention in 1960s New York City! Every hotel in the city is full with the best of the industry and their secretaries. 
You're at the Jury's Inn Hotel when the body of a prominent advertising executive is found in the Penthouse Suite! There is no such thing as bad PR – except when it comes to murder! Even in a business where betrayal and deceit run rampant, it is in everyone's best interest to solve the murder and fast, before reputations are ruined!
Costume Ideas: Suit and tie with Fedora. Full skirted swing dress, shift dress or mod dress.
Decoration Ideas: Vintage advertisements for tobacco and alcohol. Typewriters.
There you have it! A selection of 3 murder mysteries that are perfect starter investigations. Interested in other themes? Take a look at our full catalogue!
Planning on throwing a Zoom Murder Mystery? Read our full guide with step-by-step instructions!
In the time of COVID-19, Zoom has become a verb as well as an online video conferencing tool! If you haven't jumped on the bandwagon yet, we suggest heading to zoom.us to get acquainted with their app. We decided to focus on Zoom for our virtual murder mystery parties because they have a free package that includes video sharing, audio sharing, private chat, breakout rooms and virtual backgrounds. Zoom is also the conferencing app that most people are now used to, so there's a better chance of having all of your [...]