It's the 1960′s and the worldwide advertising scene is in its glory days. Ad men seem to walk on water and enjoy perks and luxuries that no other profession can match. Within the top companies, deceit and betrayal run rampant as the men play a real life chess game to advance their positions – both in-house and with competing companies.
The annual AdAge advertising convention is in town, drawing the best of the industry from all over the world for one week. Every hotel is sold out, as most advertising reps have brought their secretaries along for the week. But shortly after the convention wraps up on the first day, a horrific discovery is made at The Jury's Inn Hotel: one of the top Ad Men in the world has been found murdered in his penthouse suite! Who killed him, why and how?
This mystery has murder and is rated 2/5 on the "clean" scale. In addition to a murder, there are mentions of affairs and sex. This mystery is designed for an adult audience. As with all of our mysteries, there is no foul language.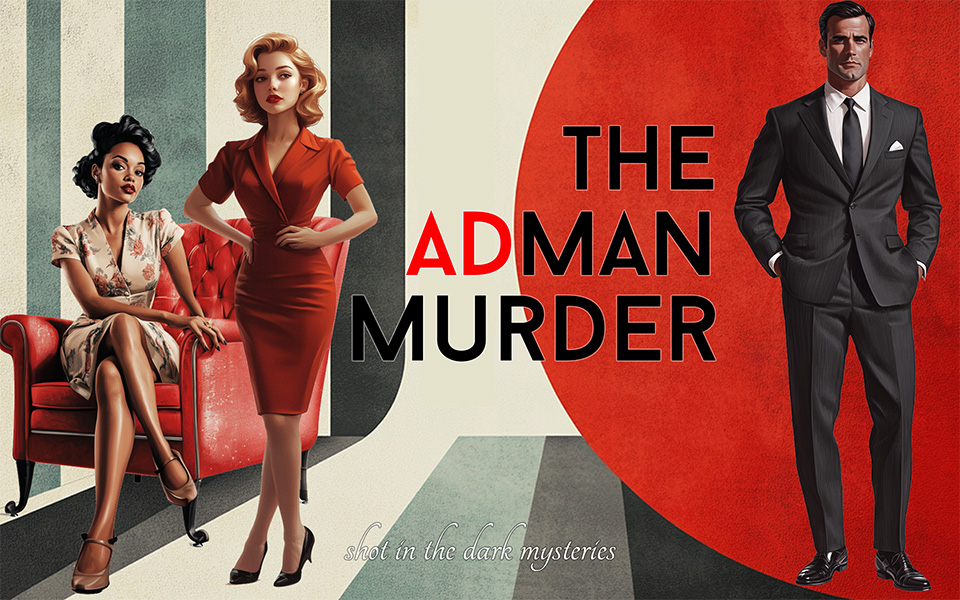 Our "Mingle Mystery" format gets your guests sleuthing and interacting to solve the mystery

Our trademark, un-boring mystery package materials (no cutting required!)

Individual email-able suspect guides to cut down on printing and save the host from "spoilers"

Host guide with full instructions and tips to help you prepare for your party

Character Complexity Rating (to help hosts better assign characters to their guests)
Optional MP3 Announcement of Murder and final "Big Reveal" mystery solution

Accusation Forms

Invitations

Name tags

Floor plans – (if applicable)

Access to the PLAY! site to send your guests to view the trailer, suspects and more!

*NEW* Digital Invitations
First, choose your number of suspects from the list below!
Attn Phone & Tablet Users! You can purchase the mystery on your phone or tablet however you will be unable to download and extract the zip files without a PC or Mac.
If we dont have your gender mix, Click to below to request a customisation
Send out digital invites to get your party numbers in order!
Reviews for The Ad Man Murder Mystery Party
Fabulous night of fun! Can't wait to pick and organise the next one later this year!
Two days after the disco party and my guests are already asking for mystery #3. Thank you so much for everything. And for indulging me and letting me send you pictures! (Played Murder at Studio Paradise, The AdMan Murder and The Sly Mr. Foxx)
Already played? Let us know what you thought!