Are you ready to take your party hosting skills to the next level with a SIMPLE party hosting hack?
This is one of my favourite ways to up the WOW factor at any party or event, and it's so simple and easy, it won't add much to your already-heaving Party Hosting To-Do List. Big Impact and Small Effort? Every host's dream, am I right? What is it?
Mesmerising Lighting Touches!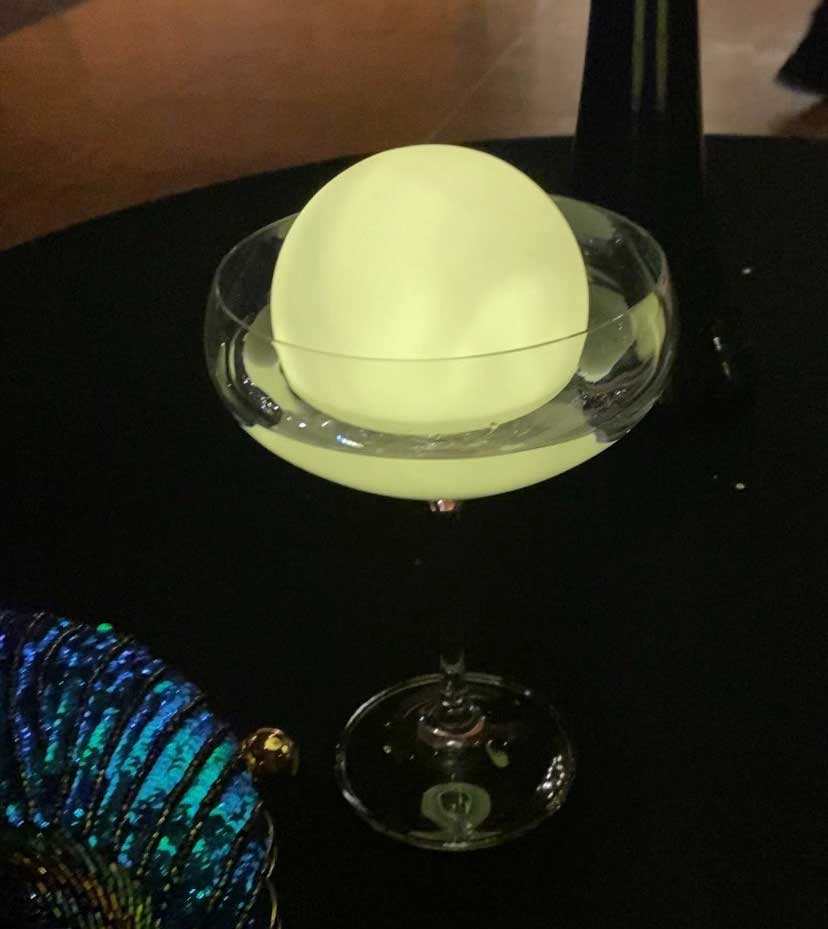 It's the thing that makes people stop when they enter your party room and say, "WOW!" AKA "the WOW factor". There are may ways to create this at your party, but this is one of the quickest, simplest, cheapest and most versatile. Here are some of my faves!
– Float orbs in champagne coups or other glasses: These orbs are really fun – they only light up when they touch water, so they are perfect to float in glasses, bowls with flowers on tables, fountains – the possibilities are endless, and everyone is completely in awe when they see them, and can't help but want to play with them.
– Pre-Lit Balloons on the floor: You don't have to have helium to have party balloons that make an impact. Balloons on the floor are a fun addition to any party space, and you can get them pre-lit (or insert your own tiny light up orbs inside) to add some really fun decor and create a magical glow in your space.
– Neon Art Installations: Add a contemporary and artistic touch to your party decor with neon art installations. Neon lights come in a myriad of colors and shapes, and they can be customized to showcase anything from catchy phrases to intricate designs. Create a personalized neon sign with the guest of honor's name or the theme of your party. Hang it above the entrance or use it as a striking backdrop for photo opportunities. The soft glow of neon lights will lend an edgy and chic vibe to your space, making your party truly Instagram-worthy.
At your Mystery Party
The name of the establishment where the mystery is set, or, the always popular "A Little Party Never Killed Nobody"
– Firefly Jars and Mason Jar Lanterns: Embrace the beauty of nature by incorporating firefly jars and mason jar lanterns into your party decor. These whimsical DIY lighting accents are simple to make and will captivate your guests with their charm. Fill mason jars with fairy lights or small LED candles, and hang them from tree branches, gazebos, or pergolas for a touch of enchantment. Firefly jars can be scattered around the party area, evoking a magical ambience reminiscent of a starry night. These little points of light will undoubtedly create a captivating and unforgettable experience for your guests.
– Projection Mapping: Wait – what? Projection mapping, a cutting-edge technology that will blow your guests away. With projection mapping, you can transform any surface into a dynamic and interactive canvas. Project breathtaking visual displays, animations, or themed graphics onto walls, ceilings, or even tablescapes. Whether you want to transport your guests to a tropical paradise or immerse them in a mesmerizing light show, projection mapping adds a touch of innovation that will leave a lasting impression on everyone in attendance.
At your Mystery Party
Certain themes, like Murder in Wonderland, A Steampunk Murder, Murder on the Lake and A Hawaiian Homicide can be lit up with this simple idea and, when the sun goes down, give you and your guests and amazing ambience in which to solve a mystery!
– Glow-in-the-Dark Pathways: Guide your guests through a mystical journey with glow-in-the-dark pathways. Charge up glow sticks, glowing pebbles, or fluorescent paint during the day, and as night falls, they'll emit a soft, ethereal glow. Line your garden pathways, driveway, or even the edges of your pool with these illuminating elements. Your guests will feel like they are walking through an otherworldly landscape, creating a memorable and immersive experience. Not only do these glowing pathways look stunning, but they also serve as a practical safety measure in low-light areas.
– Cloud-Like Hanging Lanterns: Transform your ceiling into a dreamy cloud-covered sky with cloud-like hanging lanterns. Crafted from lightweight materials and LED lights, these ethereal orbs mimic the appearance of floating clouds. Hang them at different heights to add dimension to your space and create a surreal atmosphere. Cloud-like hanging lanterns are perfect for themes like fairy tales, celestial celebrations, or simply to evoke a sense of wonder and awe.
At your Mystery Party
The Garden Party Murder can be solved inside or out, and the outside applications for this are obvious. But, if you're solving The Garden Party Murder inside or during the winter months, you can easily line your hallways with flower-themed pathway lights to let your guests feel like you are in an enchanted garden, regardless of the location or season! We have used glowing pebbles both inside and out, and love solar, non-permanent lights that can be kept for future events and moved anywhere you like!
Murder mystery party tip!
Get the package that fits your CONFIRMED guests, not the "maybes" and "on-the-fencers". We live this hosting life, and know that not everyone can firm up an RSVP (and let's face it, some are just flaky… yup, we are just dropping truth today…). The packages are designed to have everyone, even if they aren't a suspect themselves, be fully involved with the mystery, so don't worry about anyone feeling like they aren't involved. Trust us – most times the Sleuths have more fun than the Suspects.
Try this Hosting Hack when planning your next party, and let us know how it goes!