10 Easy Steps to Host a Murder Mystery on Google Meet
Choose Your Mystery
Shot In The Dark Mysteries' 1500+ mystery variations are all available for virtual parties! These interactive mystery party kits have a theme or costume element are perfect for hosting online with your friends and family virtually!
Some of our suggestions for a virtual mystery party are:
Murder at the Winery – Pour a glass and you have a costume!
A Gangster Murder at the 1920s Speakeasy – Get creative with flapper attire
Murder at Cherry Creek Saloon – Step out of the time of the pandemic and go back to the time of the Wild West!
Murder at the 1980s Prom – Balloons and big hair!
2. Schedule Your Google Meet
Create your meeting invite link with the date and time. It typically takes 1.5-2 hours to complete a virtual murder mystery. Head to meet.google.com and Create a Meeting for Later.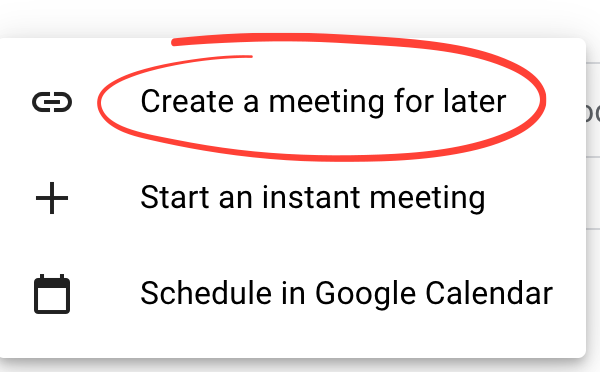 Copy and save the meeting link because that's what you will send with your invitations!
Note: You need a Google Account to create a meeting. All of your guests also need a Google Account in order to join the party!
3. Send Your Invitations
The Shot In The Dark Mysteries' murder mystery packages include customizable digital invitations specific to each mystery. Simply enter the details and send via email to your guests. At the bottom there is a section where you can provide the Google Meet invite link to your virtual party.
Of course, if you prefer, you can use social media channels, like Facebook events, to invite your mystery party guests to your virtual murder mystery party!
Once you get the RSVPs, you can start to assigning suspects to your guests!
4. Email Guests Their Suspect Guides
Suspect Guides are provided in your mystery materials in a separate file for each role. These guides describe the character, their hidden motives, what information they know that can be shared with everyone else and instructions for how to play. The Guides are formatted in individual files so you can easily send the .pdf file to each guest playing a character. Even better, if you, as the host, would like to participate, you don't have to worry about handling the clues and potentially spoiling the mystery for yourself. Each person playing a Suspect will receive a Suspect Guide. These guides tell each Suspect how to play and what to expect… so that you don't have to!
Sending them their information ahead of time allows them to get familiar with their information. Some Suspects have a complicated back story, and most guests find it helpful to have time to let all of the information sink in, but ultimately, what you do for your party is entirely up to you. Keep in mind though, that for the majority of people, being in a virtual environment is a new experience, so sending them their Suspect Guide ahead of time help prevent overwhelm when you come together live to solve the mystery!
5. Join The Google Meet
It is smart to show up early to your party so that you can help troubleshoot online access with your guests – allot a bit of extra time for your guests to get into your party!
Your guests can either click the link you send or head to meet.google.com and enter the meeting code.

You'll have to 'Admit' each of your guests when they arrive. Make sure that everyone turns on their sound and their video. 
Once in the Google Meet everyone is able to change their background to match the party theme! Simply click on the three dots on the bottom of the screen and select 'Change Background'. Either use one of the pre-loaded images, or upload an image of your own with the plus sign.
We have some free backgrounds to use for our virtual mysteries! Click here to view and download.
6. Announcement of Murder
Once everyone is logged in as their character, begin your mystery experience with the Announcement of Murder.
Your mystery comes with audio files. We encourage you to use the audio files, however they are optional. In the Google Meet virtual environment, there are two steps to playing the audio file. 
First, open the Announcement of Murder .mp3 file in Google Chrome.
Second, you need to share the tab that the audio file is in. Select Present Now, choose a tab and pick the Announcement of Murder tab. Then, hit play and all of your guests will be able to hear it. 

You can also choose to have someone read the transcript of the "Announcement of Murder" (in your Host Materials folder) instead.
7. Question The Suspects
The Announcement of Murder provides some questions that will get the investigators going. These are also provided for quick and easy reference on the Notes pages. Based on what they learn from asking these initial questions, they will naturally come up with questions of their own.
The interactive, mingle-mystery format is unique to Shot In The Dark Mysteries, and it translates over to the virtual environment. Since no one knows who the murderer is, everyone can participate in the questioning. Just make sure that everyone listens to each other and take turns asking questions.
You can choose to set a time limit on investigations, and how long you set is up to you. We recommend this, as it adds a really fun sense of urgency to the experience. Here is an example of how you can set a time limit on your mystery party investigation:
Determine how long you want the mystery to last in total (for example, 2 hours)
Allow 15 minutes for the Announcement of Murder, and for the Suspects to introduce themselves
Allow 15 minutes for accusations to be cast at the end and for the "Big Reveal"
In this example, your investigations would last 90 minutes.
8. Cast The Accusations
One of our favourite things to do when hosting mystery parties is to have everyone say who they accuse and why. This is essential during a virtual murder mystery party because without being able to write down and submit one's accusation, as we would at a live party, this is the way to lock in each person's accusations. You can also have each person type their official accusation in the chat box so that no one can renege on who they accused!
9. The Big Reveal
The end of the mystery is marked by The Big Reveal. Once everyone has cast their accusations against the killer, it's time to reveal the guilty party!
Open the Big Reveal audio file in Chrome, Select Present Now and share that tab. Then play The Big Reveal! Alternatively you can read the transcript called The Big Reveal, included in your Host Materials.
10. Be Social With Us!
We are on social media with tips, tricks and inspiration from our own events, as well as pictures and ideas from other hosts! Come share your screenshots with us and other hosts and guests! Find us @shotinthedarkmysteries on Instagram, Facebook and Google.