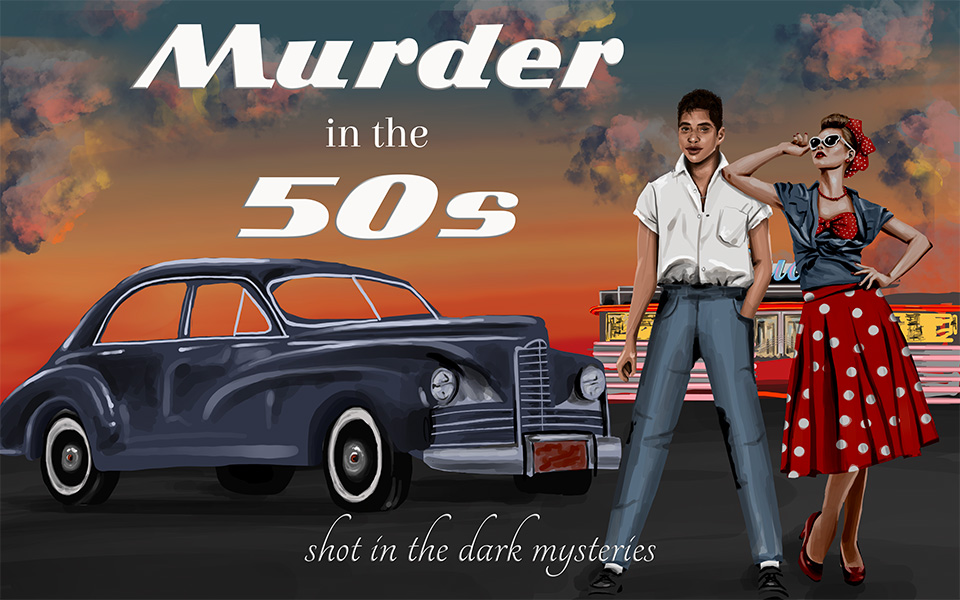 A 18 suspect mystery set in a small town sock hop in the fifties with a theme like Grease and Archie Comics. Will accommodate an unlimited number of guests participating as sleuths. You will need a minimum of 18 suspects for this version of the mystery. Suggested investigation time is 2-3 hours. As with all of our mysteries, it is an INSTANT DOWNLOAD mystery package.
Optional Witness
Need an optional witness pack for unexpected guests and not-sures? You can add a two optional character expansion pack here or later on from the Witness Pack on the main menu.
It's 1956 in Winter Springs, an idyllic town that is the personification of the 'dream life', with white picket fences line the streets, behind which live the happiest families! At least, that's what the residents of Winter Springs would have you believe…
About fifteen kilometres down the main drag is another town, Forestville, and they rival everything about Winter Springs. The towns have been feuding for decades, and when the kids are not racing one another down the main drag between the towns, they are fighting over turf.
The teens of Winter Springs were all abuzz – it was the night of the Sock Hop! But when prized student Jessie Ashford is found dead at Lovers' Lane, the teens around town are rounded up and brought to the school dance to discover who had the motive, means and opportunity to kill her!
Who killed her? Why? And where was everyone in the town at the time of her murder?
This mystery has murder and is rated 4/5 on the "clean" scale. There are no references to drinking, drugs or sex. As with all of our mysteries, there is no foul language.