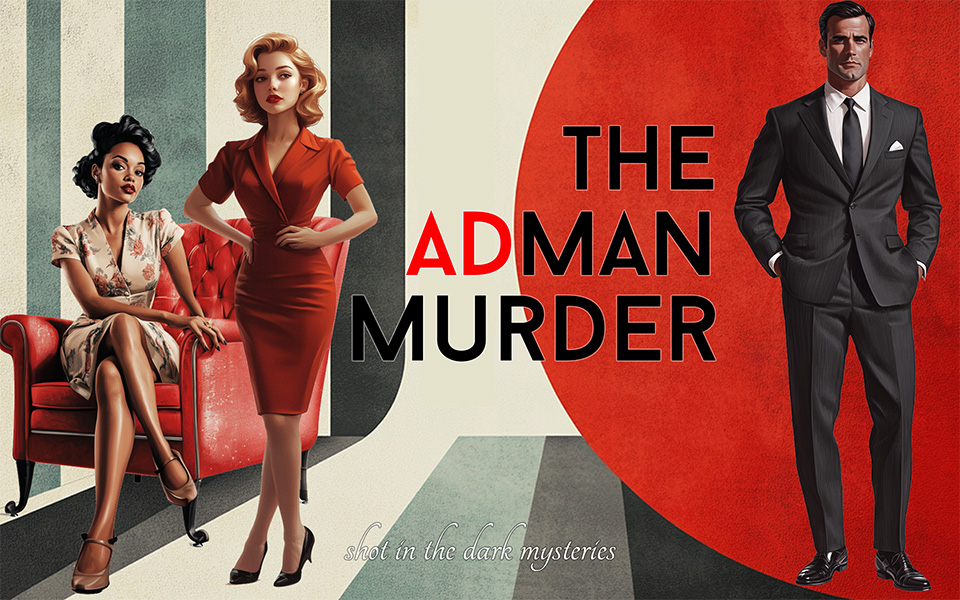 A 17 suspect mystery mystery set in the Jury's Inn hotel, home to the Adage advertising convention in the 1960s. Will accommodate an unlimited number of guests participating as sleuths. You will need a minimum of 17 suspects for this version of the mystery. Suggested investigation time is 2-3 hours. As with all of our mysteries, it is an INSTANT DOWNLOAD mystery package.
Optional Witness
Need an optional witness pack for unexpected guests and not-sures? You can add a two optional character expansion pack here or later on from the Witness Pack on the main menu.
It's the 1960's and the worldwide advertising scene is in its glory days. Ad men seem to walk on water and enjoy perks and luxuries that no other profession can match. Within the top companies, deceit and betrayal run rampant as the men play a real life chess game to advance their positions ? both in-house and with competing companies.
The annual AdAge advertising convention is in town, drawing the best of the industry from all over the world for one week. Every hotel is sold out, as most advertising reps have brought their secretaries along for the week. But shortly after the convention wraps up on the first day, a horrific discovery is made at The Jury's Inn Hotel: one of the top Ad Men in the world has been found murdered in his penthouse suite! Who killed him, why and how?
This mystery has murder and is rated 2/5 on the "clean" scale. In addition to a murder, there are mentions of affairs and sex. This mystery is designed for an adult audience. As with all of our mysteries, there is no foul language.