To understand the true spirit of the Roaring 20's, flapper style, you need to first understand a bit about what was happening that influenced the behaviour, and in a sense, rebellion of every day people.
World War I had come to an end, and with it, the economy and people in general were beginning once again to thrive. Then… prohibition. The government in many areas of the United States banned the sale and consumption of alcohol. Prohibition separated people into two classes – "dries" (those pro-prohibition) and "wets" – those against prohibition. The stage was set for a massive female rebellion.
In 1920, Frances Marion put out a film called The Flapper, which, for most people, was the first look at the style and attitude that would soon identify an era. Since women were expected to be refined and well behaved at the time, Flappers were considered unruly and shameful. The Roaring 1920's and the rise of the "Flapper" is arguably the beginning of the women's movement, and progression from the traditional female role.
Flapper women and fun-loving men flocked to secret clubs that served alcohol in spite of prohibition. They danced to Jazz, drank, smoked and wore some of the most iconic outfits in human history. Let's take a look at the fashion.
Dresses
Traditional female dress of the era – those worn by "proper" women, were dresses, corsets and gloves, with long hair pulled back in buns and other up-dos. This is a stark contrast to the most popular type of Flapper dress. They hung loose around the waist, accentuating nothing about the woman's figure, and had dangling embellishments designed to shake when dancing.
Shimmery fabrics were popular. Where traditionally shimmery fabrics were only used for embellishments, in the Flapper era, entire dresses were made of shiny material.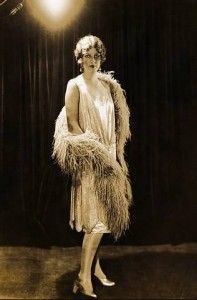 Often, Flapper dresses resembled "slips" – a garment worn under a dress, or to bed.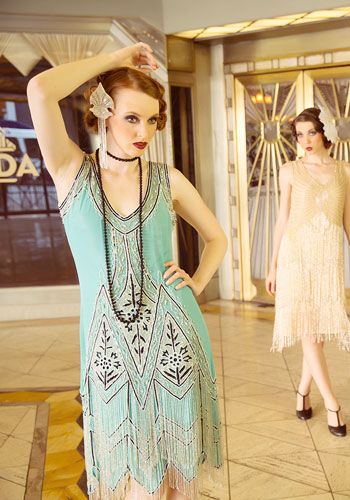 Jewelry was long and large. Long beads were layered, and long earrings stuck out from the iconic bobbed haircut.
Hair
Until the Flapper era, women's hair was worn long, and worn in a subtle up-do. A woman was rarely seen in public with her hair down. Flappers changed women's hairstyle forever, cutting their hair short into "bobs".
The Finger Wave was also hugely popular in the 20's, and often worn with short/shoulder-length hair or in a bob. You don't have to have short hair to get the wave though – you can fake shorter hair many ways. Here is a great video tutorial about how to do a Finger Wave with long hair:
Make Up
Make up was dark and drastic, and many of the iconic Flappers of film were known for having very pale, flawless skin. Here's a tutorial on how to create a great Flapper look with make up.
Hats
The hats of the 1920's are another iconic touch. For your Flapper costume, choose either a hat or a headband, but make sure you have one or the other.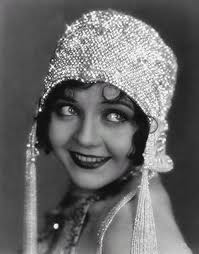 This hat style, with the long dangling embellishments on both sides was seen again and again in photos, film and in the clubs. It's seen here again:
And here is a modern Flapper hat – very popular these days, and can be found in most retail outlets:
Headbands
No Flapper look will be complete without a headband. Headbands were huge in the era, and is one of the first things we think of when we hear the word "Flapper". Your headband can be any colour and have any embellishments you like, so get creative and let your own personality shine through! You can make or purchase flapper headbands, and there is a large selection online to choose from.
Shoes
Mary Jane heels were very popular during the 1920's. While still heels, they were ideal for dancing. The wide heel and strap kept the girls on their feet as they wiggled and kicked, dancing the Charleston.
The Flapper theme is very popular these days, and finding elements for your Flapper costume should not be hard. Make your own, or browse Halloween costumes shops or accessories stores to get the embellishments. A dress can be purchased at costume shops, but I would also recommend browsing vintage stores for something really genuine and special. Etsy is another good bet for Flapper gear.
For the Guys
As always, the men have it easy when dressing for an era. In the 1920's men's fashion was not as far detached from traditional as the women's fashions.
Men's fashion of the Roaring 20's Flapper Era seems to be a bit of a collision of traditional and jazzy. While there are many different looks for men, the one that is most desirable for parties is, of course, the iconic look of Robert Redford in The Great Gatsby.
When going for this "rich playboy" image, remember that you are rich and haven't a care in the world. White suits elements, silk ties and pocket squares and cuffs are key. The fabrics used to make his clothes ooze opulence.
Hair was swept to the side and slightly backwards and parted very far over.
For a more casual look, a dress shirt is worn under a sweater, or the sweater tied around the neck. For driving, a hat is added that looks like this:
The best way to design your costume is to select one person from this iconic area and copy their look. Pick a celebrity from the era and go for it, then send us the pictures so we can share! There are more pictures from parties we've thrown, and those our guests have shared with us, at our Facebook page – http://www.facebook.com/shotinthedarkmysteries
OK! Give me a reason to dress like a Flapper – Roaring 20's Murder Mystery Parties