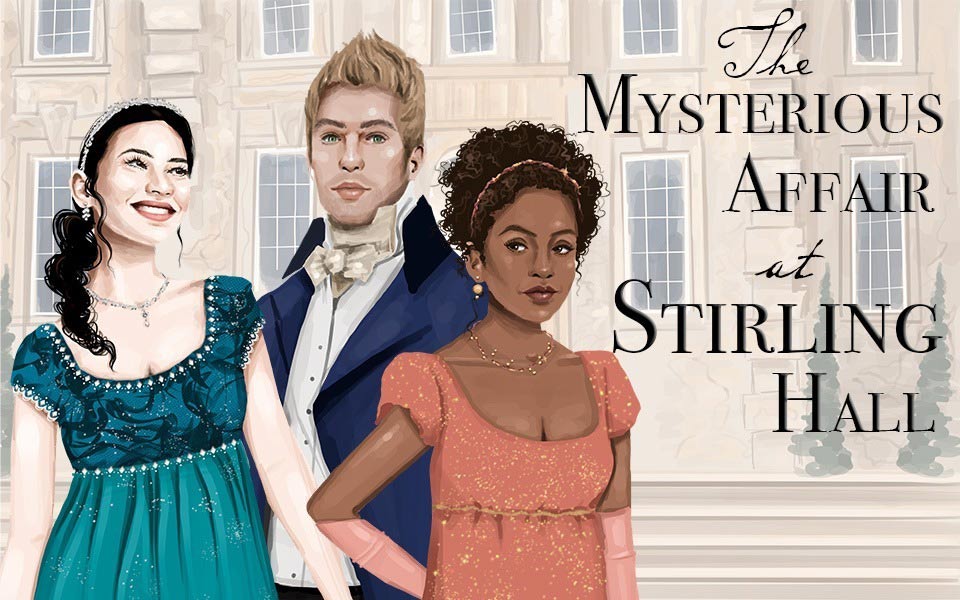 A 6 suspect mystery mystery in the tradition of Jane Austen and Downton Abbey that takes place in a grand estate, can be set in either Georgian or Victorian time. Unique to this mystery, discovering the identity of the victim and how she came to be in Stirling Hall is part of your investigation. Will accommodate an unlimited number of guests participating as sleuths. You will need a minimum of 6 suspects for this version of the mystery. Suggested investigation time is 2-3 hours. As with all of our mysteries, it is an INSTANT DOWNLOAD mystery package.
Optional Witness
Need an optional witness pack for unexpected guests and not-sures? You can add a two optional character expansion pack here or later on from the Witness Pack on the main menu.
In old day Britain, propriety is the real ruler. Welcome to Stirling Hall, home of Lord and Lady Westby, their family and servants, who are all bound by social expectation to play their "role". As if the day-to-day running of the estate is not enough, Lord Westby has no son, and the grand house and all titles are set to be inherited by Ambrose Haines, a very distant relative. The family thought their problems were at an end upon the engagement of the Westby's eldest daughter, Lady Lila Westby to the estate heir, Ambrose Haines. But when a woman is found dead in the estate, they quickly realize their problems are just beginning.
Who is the mysterious woman? What was she doing in Stirling Hall? How was she killed? And most importantly, who is her killer? Scandal must be avoided at all cost and it's up to the Westbys and all those who reside in Stirling Hall to find the killer and preserve their good name!
The Mysterious Affair at Stirling Hall has been designed to be played as a Georgian or Victoria Era or murder mystery (think of these as a Jane Austen murder mystery party, for example) or as an Edwardian Era murder mystery (more of a Downton Abbey themed murder mystery party).
This mystery has murder and is rated 4/5 on the "clean" scale. Although it is a "murder", there is no mention of sex or drugs. As with all of our mysteries, there is no foul language.