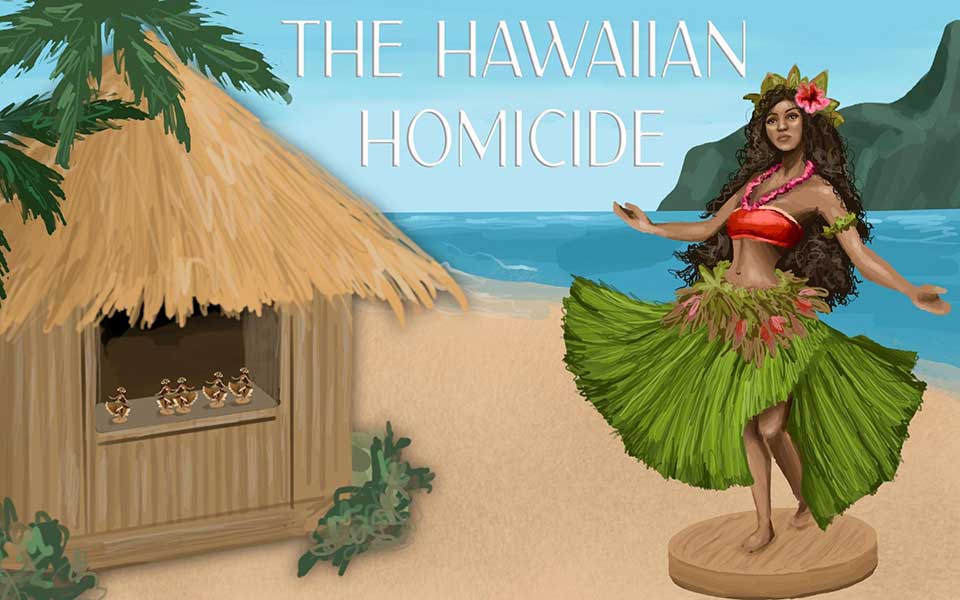 A 17 suspect mystery mystery set in a resort in Hawaii. Will accommodate an unlimited number of guests participating as sleuths. You will need a minimum of 17 suspects for this version of the mystery. Suggested investigation time is 2-3 hours. As with all of our mysteries, it is an INSTANT DOWNLOAD mystery package.
Optional Witness
Need an optional witness pack for unexpected guests and not-sures? You can add a two optional character expansion pack here or later on from the Witness Pack on the main menu.
Aloha and welcome to the Make Kaka resort, a luxurious Hawaiian resort where guests can enjoy drinks and dinner in the open air Tiki Bar, private surfing lessons with the resident surfing instructor Keanu and authentic Polynesian music and dancing shows each evening on the stage. The private beach offers a tranquil place for relaxation, which is where The Hula Hut, a small open-air hut selling hula dolls, is located. But when one of the owners of The Hula Hut is found dead, killed with a coconut behind the hut, guests and staff alike suddenly find themselves suspects in a murder investigation! Question the suspects, piece together the clues and solve the mystery ? the killer could be YOU!
This mystery has murder and is rated 3/5 on the "clean" scale. It is a "murder" mystery with mentions of drugs and a reference to a sexual encounter. While both of these plot points are handled with Shot In The Dark Mysteries' usual tactful style and class, A Hawaiian Homicide could offend conservative audiences. As with all of our mysteries, there is no foul language.