Life's too short to waste a tea set! Let's talk tea parties, and how to fill those cups with cocktails! We have gone through the archives to help make your outdoor, tipsy tea party unforgettable!
1. Mix it Up!
Make tea-infused cocktails to bring the aforementioned boozy spin to your traditional tea party! Why note try Earl Grey Infused Gin? It adds a bergamot flavour to the juniper and mixes well with sweet syrups and lemon juice.
Try out the Shot In The Dark Mysteries' EARL GREY FRENCH 75 tea party cocktail for the 1920s with a (lemon) twist!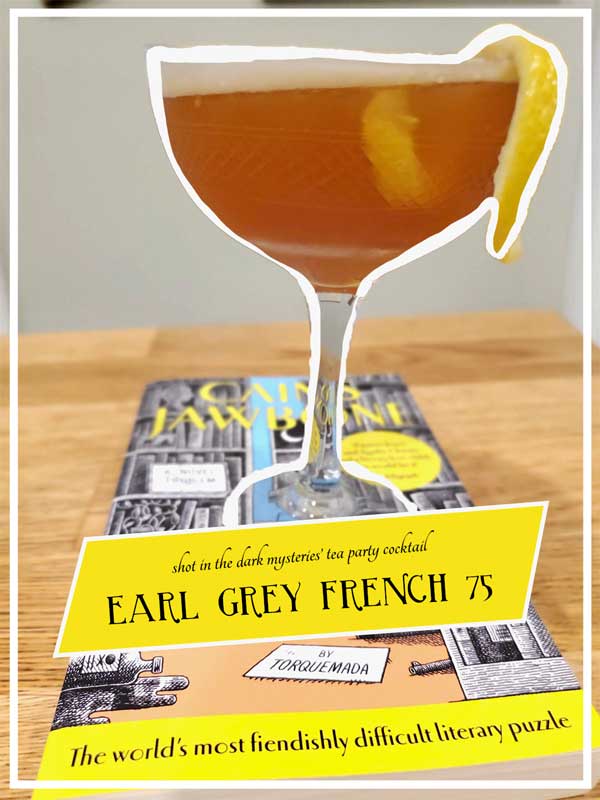 For 1 Cocktail
1 ounce Earl Grey Infused Gin
¾ oz squeezed lemon juice
¼ oz honey syrup
Prosecco to taste
Garnish with a lemon twist
Put ice in a cocktail shaker. Add Gin, Lemon Juice and Syrup and shake for 15-20 seconds until chilled. Strain into a coupe glass. Top with Prosseco to taste and garnish with a lemon twist.
Earl Grey Infused Gin
Add 1 Earl Grey tea bag per 1/4 cup of Gin. Let sit for a minimum of one hour.
Honey Syrup
Add equal parts honey to water in a saucepan over low heat. Stir until honey dissolves. Let cool.
We're inspired by other beverage concoctions like Chamomile with honey and whiskey, or adding hibiscus tea for a bright pink.
You can even cap off the evening with traditional Blueberry Tea served in snifters! Simply mix one part Grand Marnier to one part Amaretto and serve with hot black tea and an orange wheel. No blueberries are used in the making of this beverage!
Remember to tie your cocktail(s) into your theme, like a Matcha Mint Julep for Murder at the Derby!
2. Have a Rain Plan
The trickiest part about planning an outdoor event of any kind is the weather. Mother Nature isn't always the most obliging! Make sure to have a plan for inclement weather like a backup indoor venue.
You can also use a tent with string lights or a canopy of floating umbrellas to bring your rain measures right into the décor! The unexpected can sometimes be the most fun and overcast days lead to the best photos. So don't let it rain on your parade!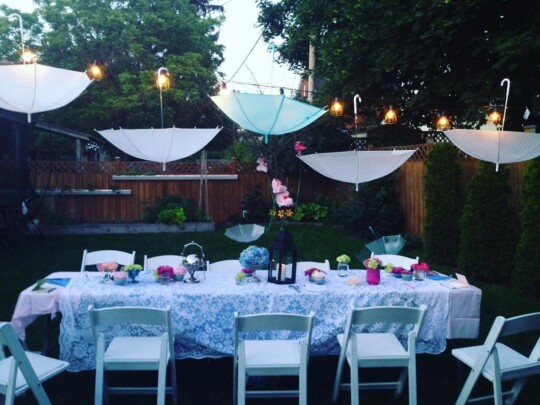 3. Decorate with Greenery
The best part about decorating for an outdoor party is that you can use what you have already! Think about cut flowers for centrepieces, floral crowns, or as a strewn petal pathway.
Create an Instagram-worthy backdrop for photos using greenery mixed with real or paper flowers. You can always dry flowers in advance for a mix of different styles and textures, depending on your theme!
Arrange your pots and planters to build your aesthetic, divide the space or even lead your guests. Think about how you want them to feel right from the second they arrive!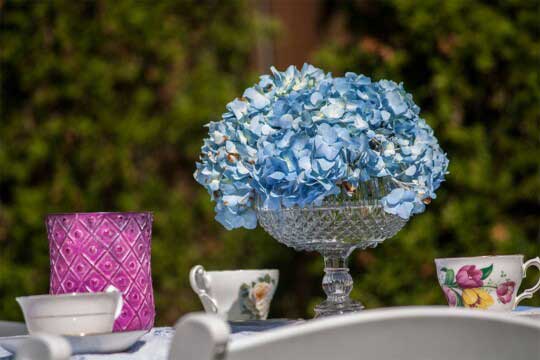 4. Make Finger Foods
A (boozy) outdoor tea party is a unique event! It is high tea mixed with an afternoon cocktail and a spoonful of backyard luncheon. You want food that looks as good as it tastes!
Instead of a sit-down feast, you want to encourage people to explore and mingle! Think about tiers of sandwiches, charcuterie platters with local meats and cheeses, sweet mixed with savoury, and seasonal goodies!
If you're throwing a party with a theme, make sure to carry that over to the food!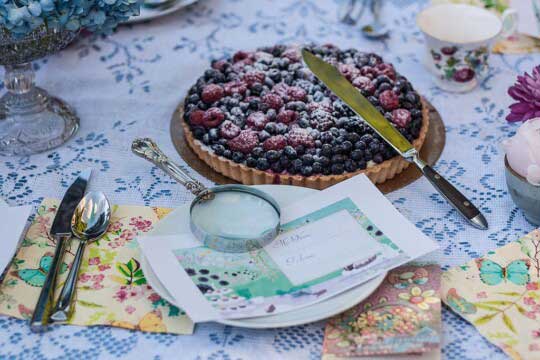 5. Make it Unique
We love watching people bring our mysteries to life in all sorts of ways! Making it unique means having a bit of a 'wow' factor that your guests are NOT expecting!
– Bring the inside, out! Use sofas, chairs and other furniture that isn't usually found on the patio. Change seating from chairs to cushions and get everyone low and cozy!
– Use quirky pieces of decor like picture frames, hanging teacups, garden gnomes and thrift store finds! The more unusual the better.
We've said it before, and we'll say it again… lean into that theme!
– Make your own signs with quotes, venue names, directions etc. Whether you use vinyl stickers, a stencil or chalk, these can help transform your ordinary space into a different place!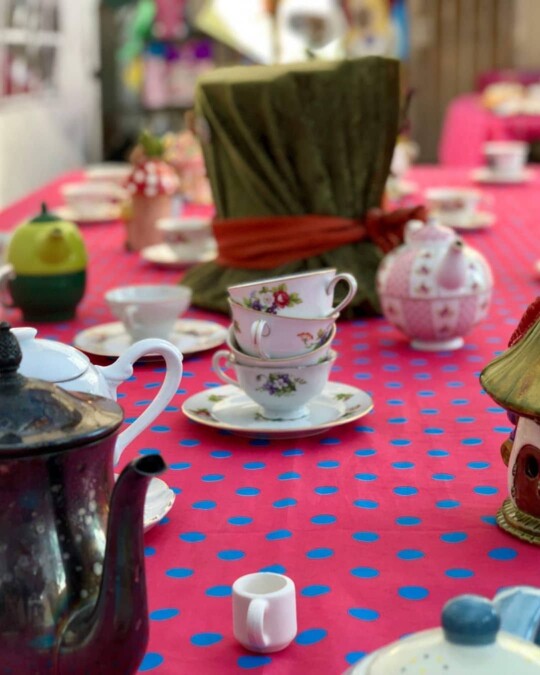 6. Dress the Part
Your boozy outdoor tea party has endless options for how to dress! You can throw a costume party with your theme. Just let people know with their invite so they have enough time to get their outfit together!
Another option is to go with traditional tea party attire like summer dresses. You can also ask everyone to coordinate with one item! This could have all your guests wearing a string of pearls, pinning on fascinators or putting on long gloves.
One tip? Have extra costumes pieces ready to go so that if someone forgot, they won't feel out of place!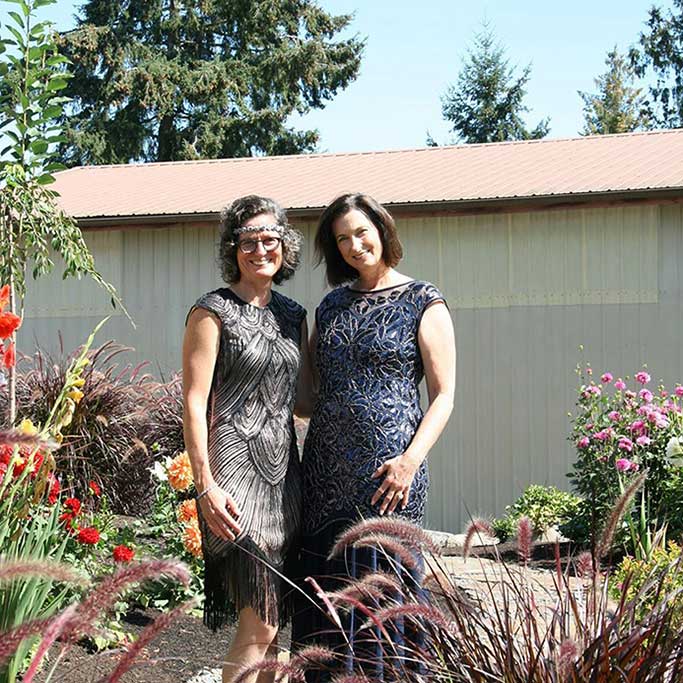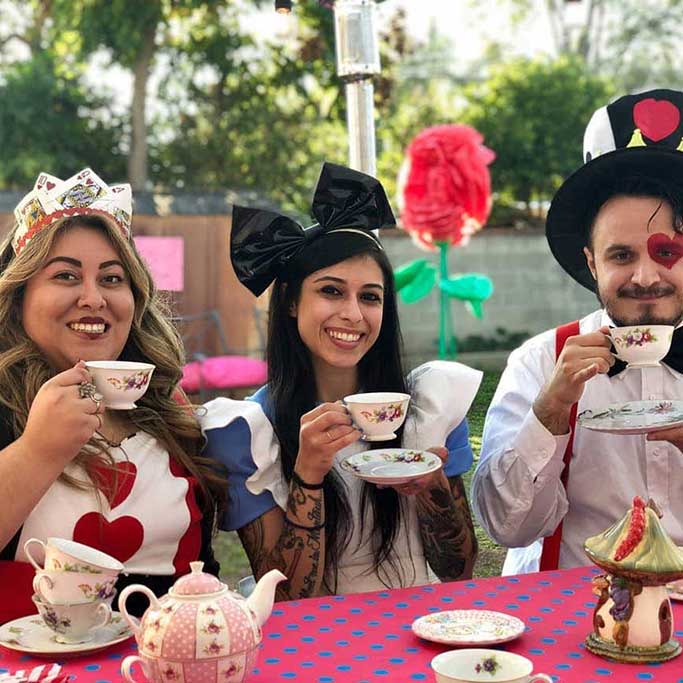 7. Make it Fun
This is where you make it a party that no one will ever forget!
Set up cornhole, bocce ball or (flamingo!) croquet so that your guests can play some games. Bonus points if that game ties into your theme!
May we suggest throwing a murder mystery with your (boozy) outdoor tea party?!
Any of these murder mysteries would suit a tea party perfectly! They can be held outside, with a minimum of 6 people! Once you pick your mystery, you can dive into the theme for cocktails, food, dress and décor!
Make sure to tag us, and follow @shotinthedarkmysteries on Instagram to see how other sleuths bring their outdoor mysteries to life!