He sees you when you're sleeping…
With the January Mayoral election looming, long time mayor Ed Hanson is about to make his last public appearance of the year, dressed as Santa Claus at Eva Alpha's Christmas party. But when the mayor, in full Saint Nick outfit, is found strangled with a length of Christmas lights, it's quickly realized that the guest list is packed with the mayor's enemies! Everyone is a suspect in this yule-tide murder mystery party game!
This mystery has murder and is rated 3/5 on the "clean" scale. There is a murder and mentions of sexuality, but no drug references. This mystery is recommended for a mature audience. As with all of our mysteries, there is no foul language.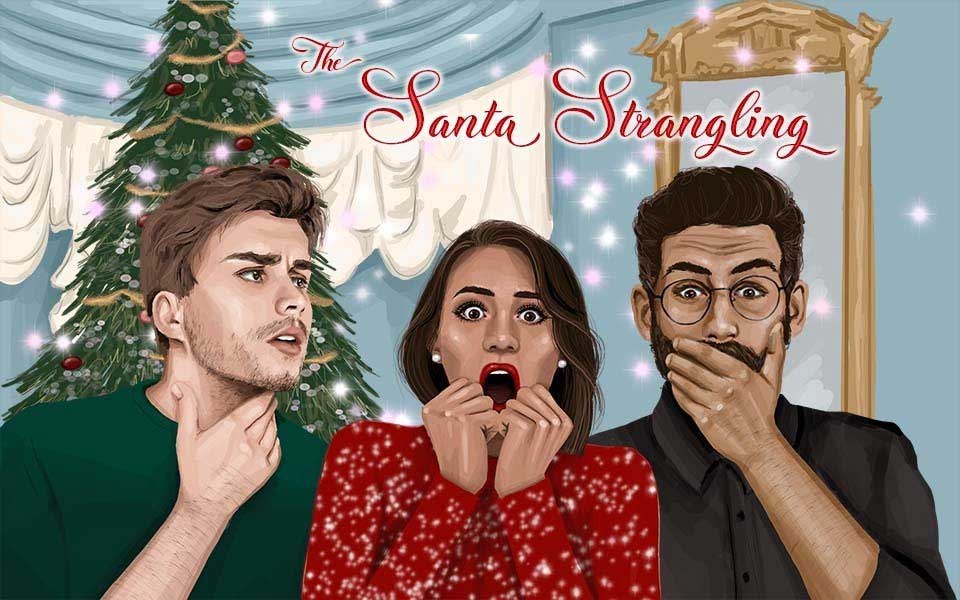 Our "Mingle Mystery" format gets your guests sleuthing and interacting to solve the mystery

Our trademark, un-boring mystery package materials (no cutting required!)

Individual email-able suspect guides to cut down on printing and save the host from "spoilers"

Host guide with full instructions and tips to help you prepare for your party

Character Complexity Rating (to help hosts better assign characters to their guests)
Optional MP3 Announcement of Murder and final "Big Reveal" mystery solution

Accusation Forms

Invitations

Name tags

Floor plans – (if applicable)

Access to the PLAY! site to send your guests to view the trailer, suspects and more!

*NEW* Digital Invitations
First, choose your number of suspects from the list below!
Attn Phone & Tablet Users! You can purchase the mystery on your phone or tablet however you will be unable to download and extract the zip files without a PC or Mac.
Reviews for The Santa Strangling Murder Mystery Party
No reviews yet, be a trailblazer, be the first!