It's a day of celebration and a good crowd has turned out for the birthday party! The event is in full swing and everyone is having a good time. Everyone, that is, except Lucy Wiper, who is found strangled to death in the washroom. Why was she murdered at such a happy event, and more importantly, who among you is her killer?
Many deadly returns…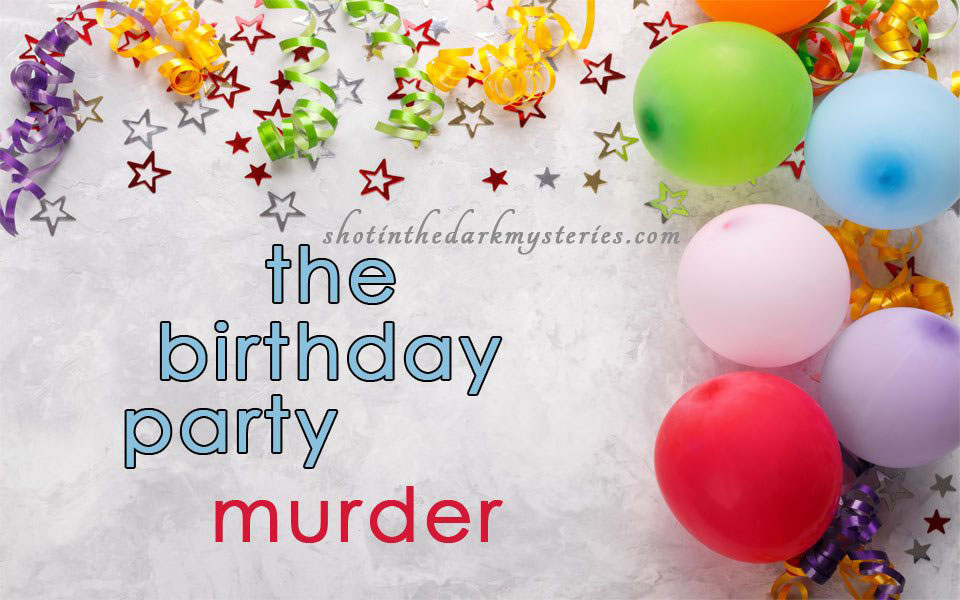 Our "Mingle Mystery" format gets your guests sleuthing and interacting to solve the mystery

Our trademark, un-boring mystery package materials (no cutting required!)

Individual email-able suspect guides to cut down on printing and save the host from "spoilers"

Host guide with full instructions and tips to help you prepare for your party

Character Complexity Rating (to help hosts better assign characters to their guests)
Optional MP3 Announcement of Murder and final "Big Reveal" mystery solution

Accusation Forms

Invitations

Name tags

Floor plans – (if applicable)

Access to the PLAY! site to send your guests to view the trailer, suspects and more!

*NEW* Digital Invitations
First, choose your number of suspects from the list below!
Attn Phone & Tablet Users! You can purchase the mystery on your phone or tablet however you will be unable to download and extract the zip files without a PC or Mac.
If we dont have your gender mix, Click to below to request a customisation
Send out digital invites to get your party numbers in order!
Reviews for The Birthday Party Murder Mystery Party
Best birthday party since I was 6!  Even had cake and ice cream.  My nephew didn't want to play so we made him lay down in a chalk outline as the victim.  We let him up for cake but then sent him back :)
Already played? Let us know what you thought!