The year is 1899 in New Orleans, and Mardi Gras celebrations are underway. Parade floats fill the streets and each evening, various Krewes throw lavish masked balls. You're invited to the Calypso Ball, the inaugural ball hosted by the first-ever all-female krewe.
The guest list is varied, as Calypso has invited one of the oldest all-male krewes, Sinis, to attend their exclusive soiree. The identities of the members of both Calypso and Sinis are a mystery, and are guarded heavily by each krewe. Masks are essential to concealing each person's identity as they all convene for an evening of anonymous exuberance and decadence. But when a man in a gold mask takes a fatal tumble down the stairs, it's quickly realized that a devious plot is afoot. The guests' heavily-guarded identities must be revealed to find out who killed the man in the gold mask, and why!
Unique to Murder at Mardi Gras: Discovering each suspect's true identity is part of solving the mystery. The suspects are identified by the colour of their mask instead of name tags.
This mystery has murder and is rated 4/5 on the "clean" scale. It is a "murder" mystery and is considered "Clean", which means no references to sex or drugs. As with all of our mysteries, there is no foul language, however there are references to voodoo.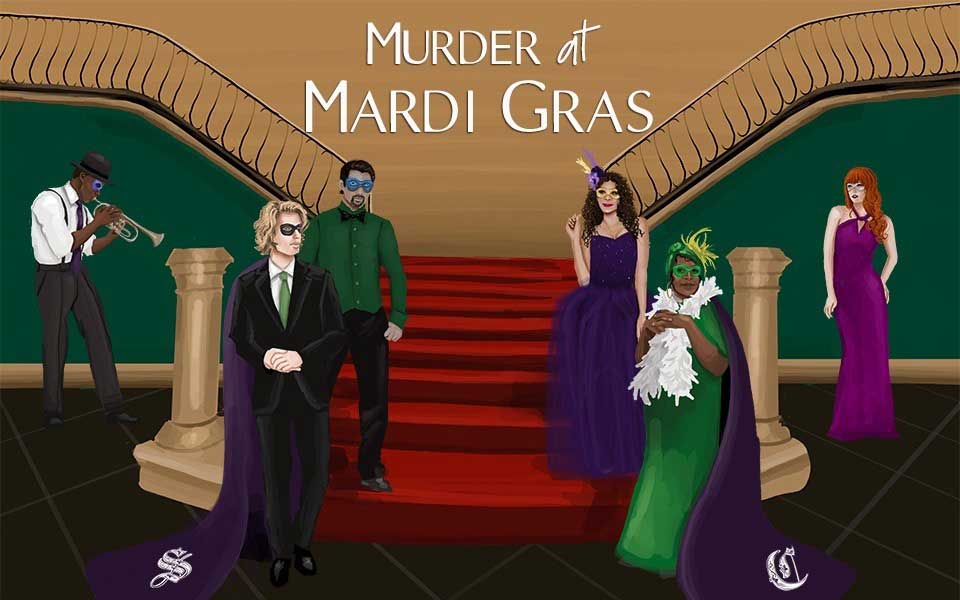 Our "Mingle Mystery" format gets your guests sleuthing and interacting to solve the mystery

Our trademark, un-boring mystery package materials (no cutting required!)

Individual email-able suspect guides to cut down on printing and save the host from "spoilers"

Host guide with full instructions and tips to help you prepare for your party

Character Complexity Rating (to help hosts better assign characters to their guests)
Optional MP3 Announcement of Murder and final "Big Reveal" mystery solution

Accusation Forms

Invitations

Floor plans – (if applicable)

Access to the PLAY! site to send your guests to view the trailer, suspects and more!

*NEW* Digital Invitations
First, choose your number of suspects from the list below!
Attn Phone & Tablet Users! You can purchase the mystery on your phone or tablet however you will be unable to download and extract the zip files without a PC or Mac.
If we dont have your gender mix, Click to below to request a customisation
Send out digital invites to get your party numbers in order!
Reviews for Murder at Mardi Gras Murder Mystery Party
I was so pleased to find your company, before that I did the BOX murders, yours are SO much better. EVERYONE waits to be invited. I end having up having favorites and leaves it hard to choose the others! (Played Murder at the Winery, The Vampire Murder, Murder at Mardi Gras)
Already played? Let us know what you thought!